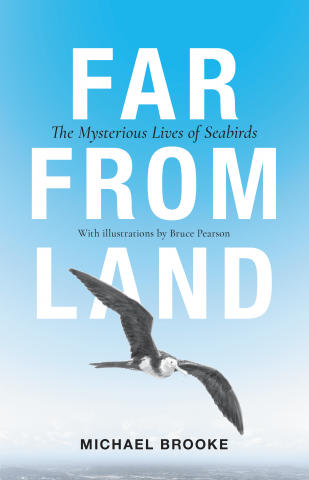 Brooke, M. 2018. Far from Land. The Mysterious Lives of Seabirds. Princeton: Princeton University Press. 249 pp. Eight colour plates; 13 colour maps; numerous black & white photographs, maps and charts; black & white illustrations by Bruce Pearson. Hard cover. ISBN 978-0-691-17418-1. US$ 29.95, UK£ 24.00.
Michael Brooke is the Strickland Curator of Ornithology at the University Museum of Zoology, Cambridge, UK. His previous books on seabirds include The Manx Shearwater published in 1990 (the subject of his doctoral research on the Welsh island of Skomer where we first met way back in 1982) and Albatrosses and Petrels across the World in 2004. So, an established seabird author, what of his latest?
Far from Land. The Mysterious Lives of Seabirds is a more reflective book than that on the Manx Shearwater Puffinus puffinus, published over a quarter of a century earlier. In 10 chapters the author takes the reader on a journey through both time and space. The book's main theme is "the elusive seafaring lives of albatrosses, frigatebirds, cormorants and other ocean wanderers", showing how the development of miniaturized electronic devices have opened a window to what seabirds really are up to while they are out of sight of land at sea. The author's up-to-date accounts of this recent burgeoning of knowledge into pelagic seabird lives are interspersed with his own journeys to study seabird around the world. Here we soon realize that Mike Brooke is nothing but well-travelled. Starting off in the United Kingdom with undergraduate and postgraduate research sojourns on Fair Isle and the Shiants (both on the reviewer's bucket list) and on Skomer, he spent a summer on South Africa's sub-Antarctic Marion Island, engineered through the FitzPatrick Institute of African Ornithology at the University of Cape Town – where I spent most of my own seabird career. Summer visits to the Tristan da Cunha Islands (Gough and Nightingale) and Dronning Maud Land in Antarctica followed, also in collaboration with my old institute. Since those early days Mike has worked in South America on Chile's Juan Fernández Islands and in Peru's deserts searching for enigmatic storm petrels. More recently he has worked on the outer islands of the lonely Pitcairn group, studying gadfly petrels on Henderson Island (click here).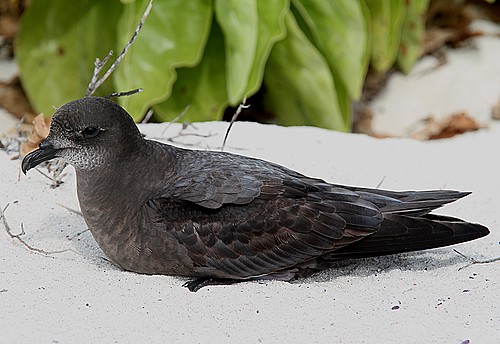 Near Threatened Murphy's Petrel Pterodroma ultima on Henderson Island
The attractive black and white illustrations are by artist Bruce Pearson. The chosen colour photo and maps help illustrate the book – which comes seemingly free of typos, well bound and nicely presented with a dust jacket.
I enjoyed reading Mike Brooke's latest book; and think anyone who studies seabirds, or just wants to know more about them, and their mysterious lives, will too.
John Cooper, ACAP Information Officer, 13 August 2019