Following the species' public nomination in 2012, Australia has been considering listing its populations of the Flesh-footed Shearwater Puffinus creatopus under its Environmental Protection and Biodiversity Conservation Act 1999 (EPBC Act) (click here).
Following "a rigorous scientific assessment of the species' threat status" by the Act's Threatened Species Scientific Committee (TSSC) the decision has now been made not to list the species under the Act. Therefore a recovery plan for this species will not now be produced. Click here for the TSSC's conservation advice.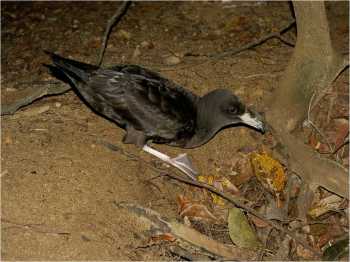 Flesh-footed Shearwater, photograph by Barry Baker
The EPBC Act provides a legal framework to protect and manage nationally and internationally important flora, fauna, ecological communities and heritage places. A national recovery plan in terms of the Act exists for Australia's breeding and visiting populations of albatrosses and giant petrels Maconectes spp., covering 21 species for the period 2011 to 2016 (click here).
The Flesh-footed Shearwater has been identified as a potential candidate for inclusion within ACAP. It is listed as of Least Concern globally by BirdLife International.
John Cooper, ACAP Information Officer, 05 September, 2014