Status and Trends of Macquarie Island Albatrosses and Giant Petrels: Management and Conservation of Threatened Seabirds
The Tasmanian Wildlife Management Branch (DPIPWE) is seeking expressions of interest from personnel interested in being considered to undertake the role of field assistant for the Macquarie Island Albatross and Petrel Program during the 2016-17 summer period. Potential participants are requested to submit expressions of interest which address criteria which are essential to the role. The successful person shall be required to be available to travel to Macquarie Island between October 2016 and April 2017 (approximate dates, depending upon Australian Antarctic Division shipping schedule) and also to pass Australian Antarctic Division medical clearance, which include both physical and psychological testing components, as well as undertake mandatory pre-departure field training.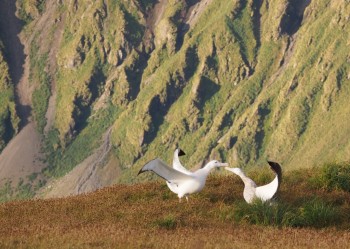 Wandering Albatrosses court below Petrel Peak on Macquarie Island, photograph by Kate Lawrence
This long-term seabird conservation programme has been running for over 20 years, collecting important breeding and demographic data for the four species of ACAP-listed albatrosses and two species of giant petrels that breed on Macquarie Island. A team of two field staff is required to be deployed to Macquarie Island for up to six months. The team is largely based in remote area field huts with limited facilities. Huts will also be shared with staff from other programmes. The terrain is rugged, the weather is challenging and heavy packs are required to be carried when in the field. A high level of physical fitness is required prior to the beginning of the season. Programme data are also required to be collected and entered into databases, and a comprehensive report prepared at the end of the field season (May 2017). This is a volunteer position, however, all costs associated with the programme, including travel and medical checks, will be met. Preference will be given to applicants who indicate a preparedness to undertake two consecutive field seasons. Continuation of the applicant in the second season is contingent upon performance in the first season and future programme planning and logistics. As such, continued involvement in the field programme for a second season will be reviewed at the end of May 2017.
Applicants should have relevant tertiary qualifications (or equivalent). The deadline for applications is 20 June 2016.
Read more here on candidate requirements and how to apply.
Click here for regular postings of other employment opportunities with ACAP-listed albatrosses and petrels.
With thanks to Rachael Alderman for information.
John Cooper, ACAP Information Officer, 30 May 2016