The invasive plant Golden Crownbeard Verbesina encelioides, which forms "cornstalk-high stands", is being removed from several atolls in the USA's Northwestern Hawaiian Islands (NWHI), leading to improved breeding habitat for ACAP-listed Black-footed Phoebastria nigripes and Laysan P. immutabilis Albatrosses. The plant is a fast-growing and prolific annual that thrives in the Hawaiian climate.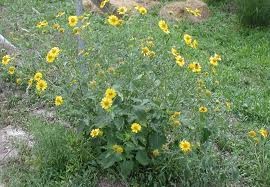 Golden Crownbeard Verbesina encelioides
The U.S. Fish and Wildlife Service reports that more seabirds, including albatrosses, attempt breeding and more chicks survive among native grass species than within non-native Verbesina stands on Midway Atoll National Wildlife Refuge, part of the Wold-Heritage-listed Papahanaumokuakea Marine National Monument (click here). Laysan and Black-footed Albatrosses bred at near-record levels in 2012/13 on Midway, although "biologists will need three or more years to know if the rise is due to Verbesina control."
Verbesina is thought to have been introduced to Midway in the 1930s. "By the late 1990s, when eradication efforts began, the plant covered most of Midway's three islands, reducing seabird nesting density, reproductive success, albatross chick survival and biodiversity. Verbesina grows rapidly each year, forming thick stands that reduce albatross nesting and limit air flow to chicks in their nests, putting them at risk of death from dehydration."
"For the past two years, crews have hand-sprayed Verbesina almost daily with herbicides; year-round seabird nesting precludes the use of tractors or heavy equipment. Spraying has knocked out most mature Verbesina plants on Midway's Eastern Island. If all goes well, emergent seedlings will be gone by early 2017 on Eastern and Spit islands and by early 2018 on bigger Sand Island. Native grasses and other native plants are being replanted to restore seabird nesting habitat, secure coral sand and build coastal dunes to protect against waves."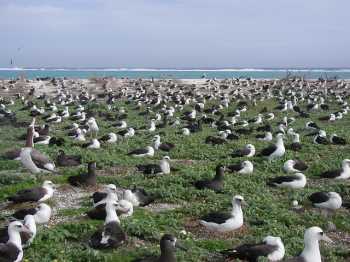 Black-footed and Laysan Albatrosses breeding on Midway Atoll
To guard against re-infestation or invasion, the Refuge imposes strict quarantine procedures. Personnel travelling to Eastern Island must pass through shoe-cleaning stations at the boat pier. All equipment is cleaned before transport from Honolulu to Midway and before use on Eastern Island. Travellers from Honolulu to Midway must also clean their shoes and gear before flights and voyages. Only new clothing and thoroughly cleaned equipment are allowed at the other atolls and islands within the Papahanaumokuakea Marine National Monument.
Verbesina eradication is being undertaken with a US$1 million National Wildlife Refuge System grant and matching funds from the National Fish and Wildlife Foundation.
Read an earlier item on Verbesina control in ACAP Latest News here. Verbesina control and native plantings are also underway on Kure Atoll in the NWHI in order to improve breeding habitat for albatrosses and other seabirds (click here).
John Cooper, ACAP Information Officer, 26 May 2014