Kidney Island lies 0.5 km off Kidney Cove in East Falkland in the Falkland Islands (Islas Malvinas)*. The 32-ha island (Isla Celebroña in Spanish) rises to 18 m and is almost completely covered in dense stands of Tussac Grass Parodiochloa flabellata. The coastline consists of boulder beaches, cliffs and a sandy bay.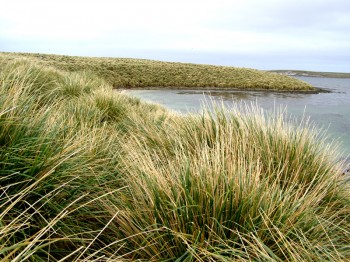 Tussock-covered Kidney Island, photograph by Sarah Crofts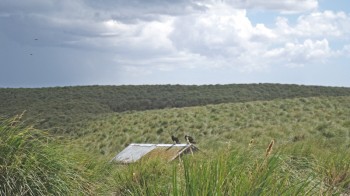 Field hut among the tussock on Kidney Island, photograph by Sarah Crofts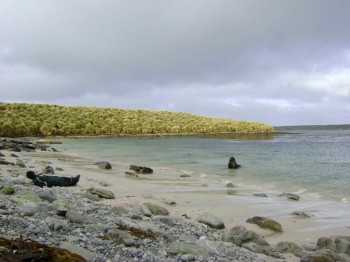 Kidney Island's sandy bay (with seal and human), photograph by Sarah Crofts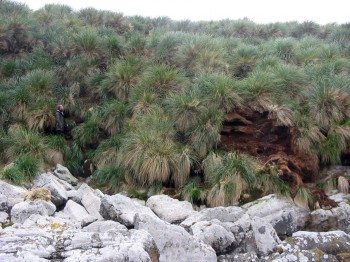 Boulder beach at a White-chin breeding area on Kidney Island, note the person on the left for scale, photograph by Sarah Crofts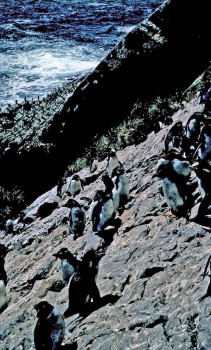 Southern Rockhopper Penguin cliff on Kidney Island, photograph by Stephen Pringle
ACAP-listed White-chinned Petrels Procellaria aequinoctialis breed on the island in two areas. During summer 2005, 23 occupied burrows were found; 27 occupied burrows were located in 2006. Larger numbers ("a few hundred pairs") have been reported breeding in the past and a 1992 estimate of "up to 1,000 pairs" appears in the literature. Whether this information reflects a real decrease appears uncertain, given the lack of systematic surveys in the past. A total of 123 White-chins, two banded, was found dead from unknown causes along the island's shoreline in October 2000 (click here).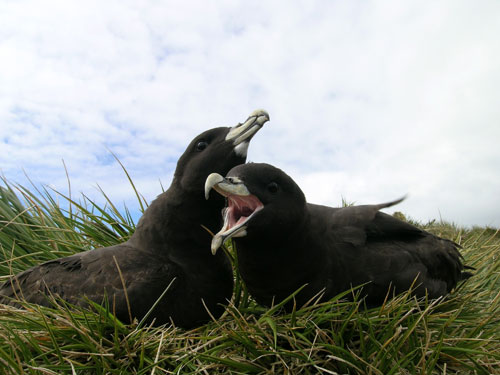 White-chinned Petrels in the South Atlantic, photograph by Ben Phalan
Large numbers of Sooty Shearwaters Puffinus griseus, a few Great Shearwaters P. gravis (the only known breeding site in the island group) and Grey-backed Storm Petrels Garrodia nereis breed on the island, as has the Common Diving Petrel Pelecanoides urinatrix in the past.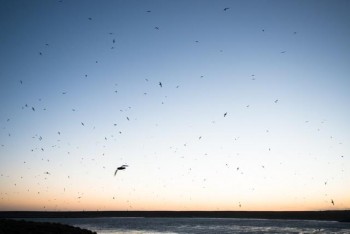 Sooty Shearwaters gather off Kidney Island at dusk, photograph by Anton Wolfaardt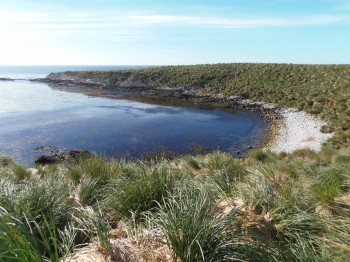 The sandy bay on Kidney Island, photograph by Paulo Catry
The island is protected as a National Nature Reserve designated in 1964. Along with nearby Cochin Island, it is also an Important Bird Area (IBA) designated by BirdLife International (click here). Landings with a guide following a half-hour boat journey from Stanley are allowed under permit. A small hut nestles within the tussock. It has no introduced mammal pests and has never supported grazing animals, although in the past tussac was cut for fodder.
Read of a 2012 visit to the island here.
White-chinned Petrels are known to breed at only three other localities in the Falkland Islands (Islas Malvinas)*: Bottom, New and Top Islands.
With thanks to Neil Anders, Paulo Catry, Sam Cockwell, Sarah Crofts, Farrah Peck, Richard Phillips, Stephen Pringle, Kalinka Rexer-Huber and Anton Wolfaardt for photographs and information.
Selected Literature:
[Falklands Conservation] 2006. Important Bird Areas of the Falkland Islands. London: Falklands Conservation. 160 pp.
Reid, T.A., Lecoq, M. & Catry, P. 2007. The White-chinned Petrel Procellaria aequinoctialis population of the Falkland Islands. Marine Ornithology 35: 57-60.
Wolfaardt, A.[C.], Rendell, N. & Brickle, P. 2010. Falkland Islands Implementation Plan for the Agreement on the Conservation of Albatrosses and Petrels (ACAP): Review of Current Work and a Prioritised Work Programme for the Future. Stanley: Falkland Islands Government. 57 pp.
Woods, R.W & Woods, A, 1997. Atlas of the Breeding Birds of the Falkland Islands. Oswestry; Anthony Nelson. 190 pp.
Woods, R., Ingham, R. & Brown, A. 2006. Falkland Islands. In: Sanders, S. (Ed.). Important Bird Areas in the United Kingdom Overseas Territories. Sandy: Royal Society for the Protection of Birds. pp. 99-162.
John Cooper, ACAP Information Officer, 20 August 2015
*A dispute exists between the Governments of Argentina and the United Kingdom of Great Britain and Northern Ireland concerning sovereignty over the Falkland Islands (Islas Malvinas), South Georgia and the South Sandwich Islands (Islas Georgias del Sur y Islas Sandwich del Sur) and the surrounding maritime areas.