ACAP Latest News has previously reported on several occasions on the efforts by Pacific Rim Conservation to establish a new breeding colony of Laysan Albatrosses Phoebastria immutabilis on the Hawaiian island of Oahu, utilizing eggs collected on the nearby island of Kauai. (click here and follow the string backwards for the full story).
Following artificial incubation, chicks from those eggs that hatched have been hand-reared at the James Campbell National Wildlife Refuge. Ten fledglings have now flown from the island (click here for a video clip and here for a news item).
It is intended to repeat the exercise for a further two years, in the hope that the fledglings will return as adults in three to five years' time to commence breeding within the refuge, thus in time establishing a new albatross colony protected from predicted sea-level rise that threatens the low-lying islands and atolls where most Laysans breed.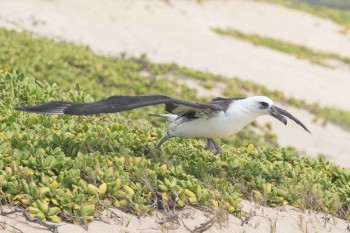 A hand-reared Laysan Albatross fledgling starts its take-off run, photograph by Eric Vanderwerf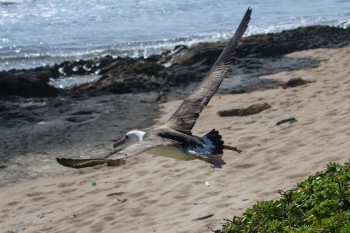 Off to sea! A hand-reared Laysan Albatross fledges, photograph by Robby Kohley
The translocation project is supported by the U.S. Fish and Wildlife Service, American Bird Conservancy, US Navy, the National Fish and Wildlife Foundation and the David and Lucile Packard Foundation.
With thanks to Lindsay Young for information and for supplying the photographs.
John Cooper, ACAP Information Officer, 09 August 2015