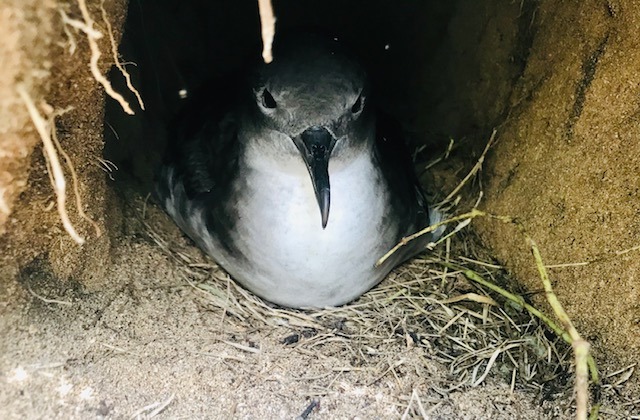 A Wedge-tailed Shearwater in its burrow on Oahu, photograph from Pacific Rim Conservation
"Moon, high and deep in the sky
Your light sees far,
You travel around the wide world,
and see into people's homes.
Moon, stand still a while
and tell me where is my dear.
Tell him, silvery moon,
that I am embracing him.
For at least momentarily
let him recall of dreaming of me.
Illuminate him far away,
and tell him, tell him who is waiting for him!
If his human soul is, in fact, dreaming of me,
may the memory awaken him!
Moonlight, don't disappear, disappear!
"Song to the Moon", in translation, from the opera Rusalka by Antonin Dvorak
Patricia Janečková performs "Song to the Moon"
David Hyrenbach (Hawai'i Pacific University, Oahu, Hawaii, USA) and colleagues have published in 'Elapiao, Journal of the Hawaii Audubon Society, on an unusually high fallout of fledging Wedge-tailed Shearwaters Ardenna pacifica. "Working with USFWS, we documented unusually high wedge-tailed shearwater fallout in O'ahu (Hawai'i) during the 2011 fledging season using standardized road surveys."
Reference:
Hyrenbach, K.D., Urmston, J. & Swindle, K. 2022. Road surveys detect unusually high Wedge-tailed Shearwater fallout in SE O'ahu during the 2011 fledging season. 'Elapiao 82(1): 1-5.
John Cooper, ACAP Information Officer, 12 January 2022