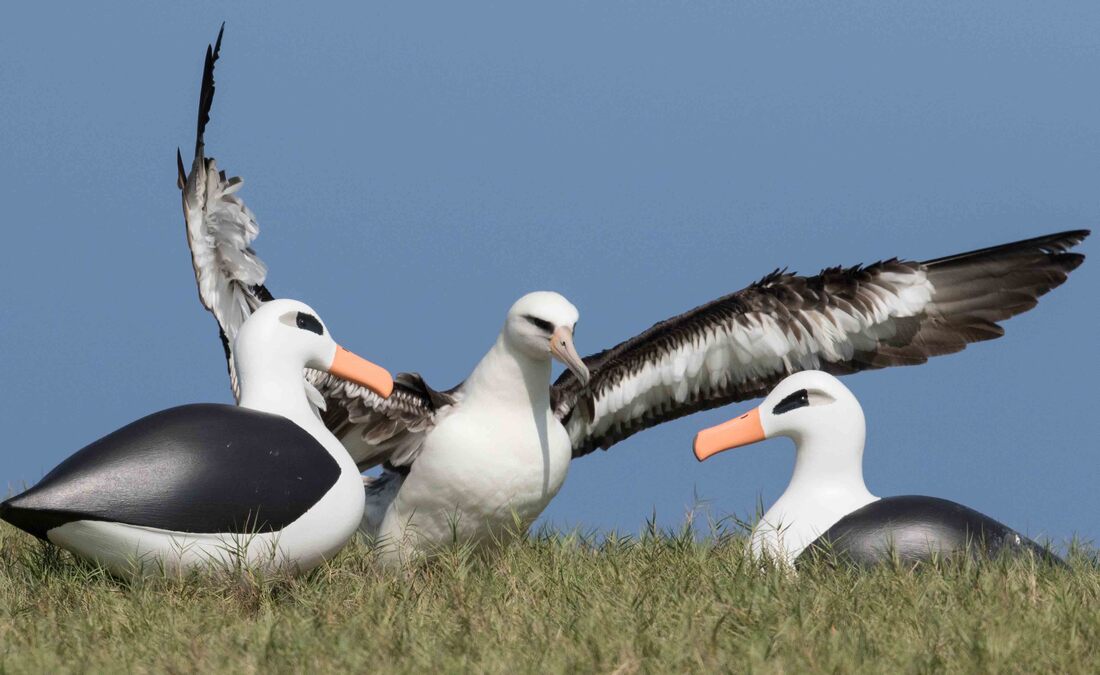 A Laysan Albatross lands next to two decoys at the James Campbell National Wildlife Refuge, photograph from the project website
A new initiative coming out of Hawaii aims to improve knowledge transfer among practitioners of seabird restoration around the world as the project's website explains:
"Seabirds are one of the most threatened bird groups on the planet, with approximately 30% at risk of extinction and with 84% of all species at risk from at least one threat, primarily from invasive alien species, bycatch, poaching, and/or climate change. Active seabird restoration tools are used to recover seabird colonies, particularly where removal of threats is not enough for long-term species conservation, yet it is unknown which restoration methods are most likely linked to conservation success. The Seabird Restoration Database seeks to improve knowledge transfer of active restoration techniques among practitioners and enhance seabird conservation by documenting the methods and outcomes from social attraction and translocation activities applied to restore and recover seabird populations around the world. Between 2020-2021 we will collate data from the literature, reports, databases and expert consultations to determine the species, locations, methods, and outcomes for active seabird restoration efforts. Once completed, the database will be made publicly available."
The Seabird Restoration Database is being managed by Pacific Rim Conservation which is based in Oahu, Hawaii.
John Cooper, ACAP Information Officer, 27 August 2021