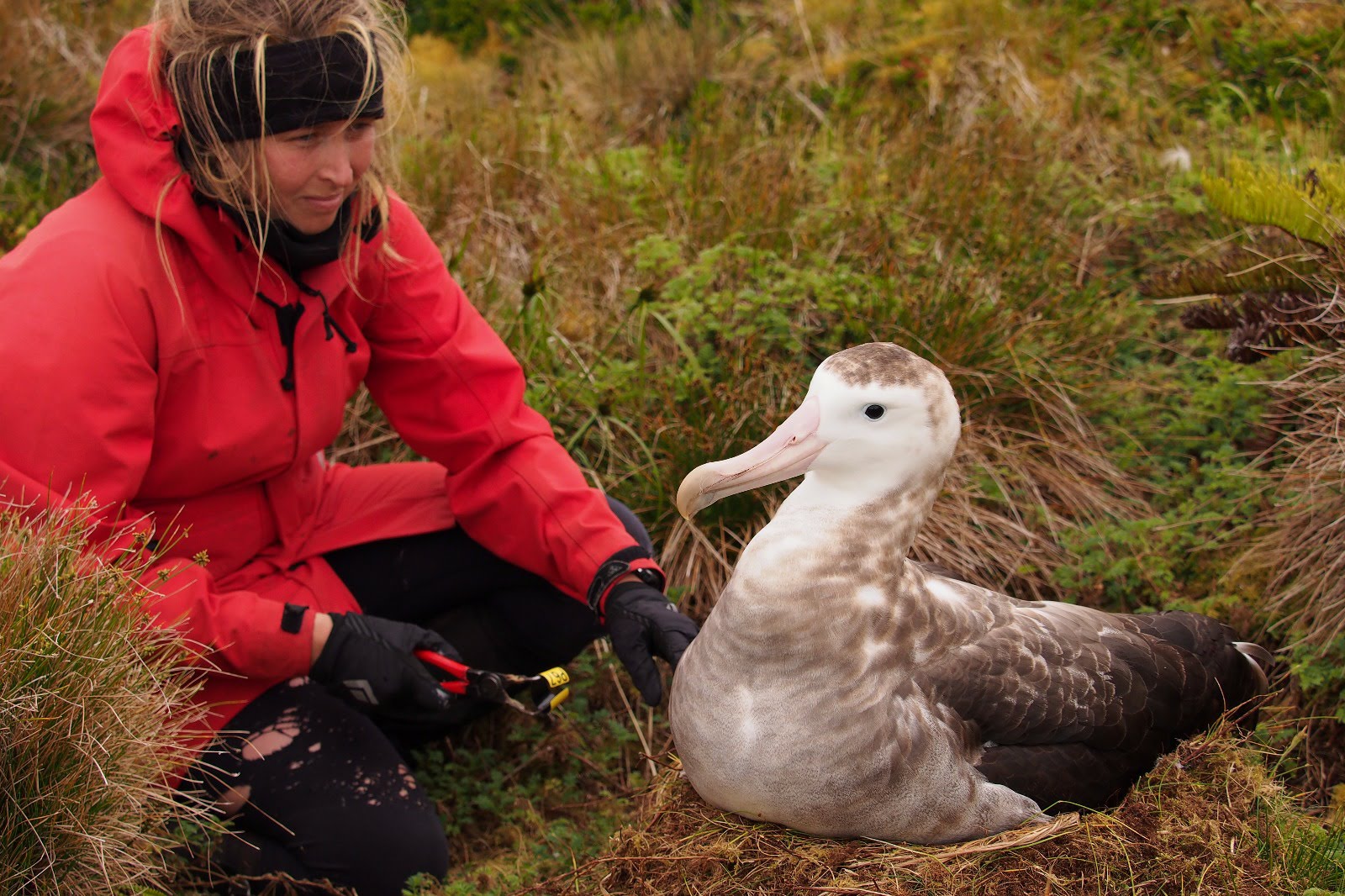 Jaimie Cleeland colour bands a breeding Tristan Albatross on Gough Island
To date, 813 sponsors have funded 2260 hectares towards the eradication of Marion Island's albatross-killing mice with donations exceeding two and a quarter million South African Rands. Whereas this represents a larger area than that of New Zealand's Antipodes, the most recent sub-Antarctic island to be rid of its introduced mice, at some 30 000 ha Marion will be the largest island by far where a mouse eradication will be attempted in a single operation. So there's a long way still to go before the projected 2023 eradication will be fully funded!
The majority of the sponsorships has come from within South Africa. However, a so far small but a growing number has come from outside the country, showing that the eradication of the island's mice and the plight of its embattled albatrosses and petrels has struck a chord worldwide. Among this international fraternity are researchers and conservationists who have worked with albatrosses and their petrel kin. The Mouse-Free Marion Project is most grateful for their support and reached out to seven of these generous people to learn more about what motivated them to donate.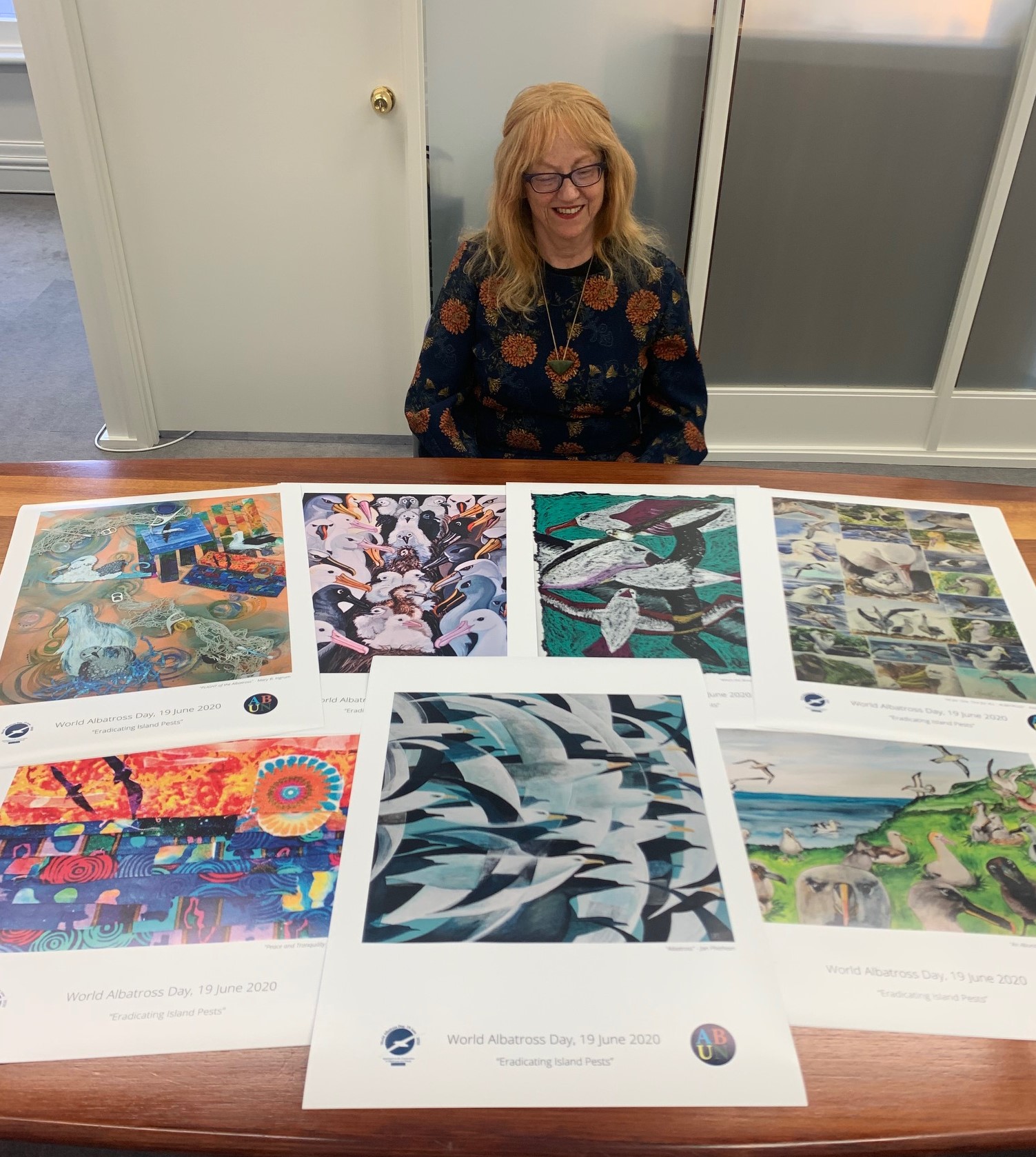 Christine Bogle with World Albatross Day 2020 posters
Christine Bogle, a New Zealander currently based in Australia, is the ACAP Executive Secretary. She wrote in an ACAP media release last year: "The inaugural World Albatross Day comes at a time when the world has been turned upside down by a global pandemic. I hope this crisis reminds us how much we must treasure the natural environment of which we are custodians. To paraphrase the words of Sir Geoffrey Palmer (former New Zealand Prime Minister), who in May 1990 was speaking about whales, if we allow albatrosses to become extinct, how can we imagine ourselves capable of solving the many other environmental problems the world faces?"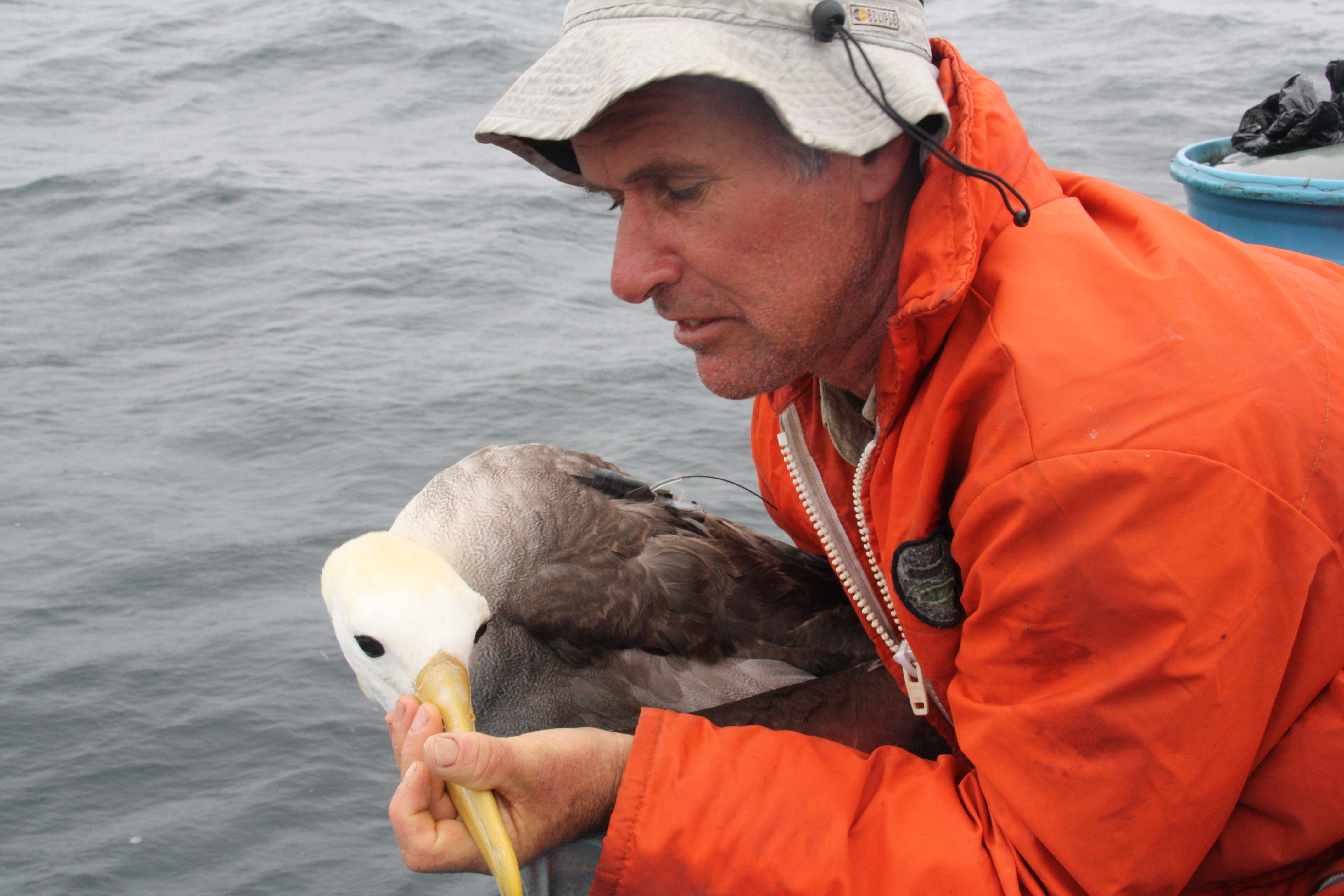 Nigel Brothers releases a Critically Endangered Waved Albatross Phoebastria irrorata bearing a satellite tramsmitter at sea

"Nobody wants to kill a magnificent 50-year-old albatross and yet hundreds are killed every day just to put fish on your plate" is the view of Australian Nigel Brothers, Seabird Consultant with Humane Society International who has worked with seabirds and their introduced (but now eradicated) predators on Macquarie Island. He currently serves as an expert member on ACAP's Seabird Bycatch Working Group. Read more about Nigel's support of the MFM Project here.
Jaimie Cleeland (photograph at top) conducted her PhD research on Macquarie Island's albatrosses ovrer 2011 to 2014, followed by a year on Gough Island working with the Critically Endangered Tristan Albatross Diomedea dabbenena. Currently with the Australian Antarctic Division, she writes: "Albatrosses are long lived, have a prolonged juvenile stage, breed infrequently and have strong pair bonds which they can maintain for life. This slow life cycle makes them vulnerable to threats such as industrial fishing, invasive predators and marine pollution".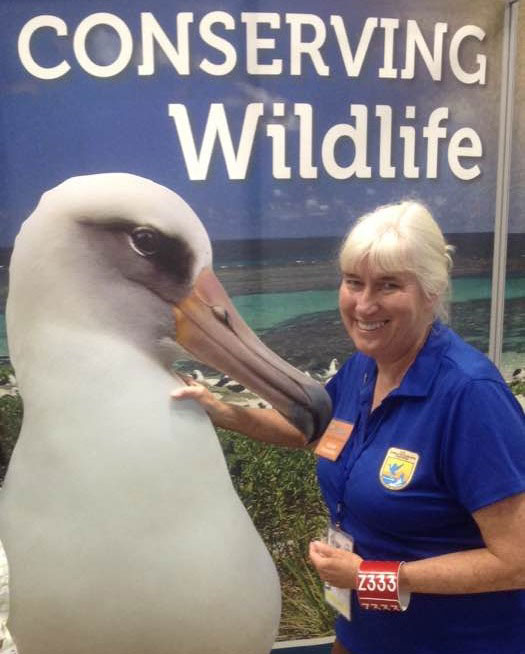 Beth Flint poses with a model of Wisdom, the Laysan Albatross, the world's oldest known wild bird
Elizabeth (Beth) Flint is a Supervisory Wildlife Biologist with Marine National Monuments in the Pacific, U.S. Fish and Wildlife Service, U.S.A. Based on the Hawaiian island of Oahu she writes "While we share similar life spans and the spatial scales of our activities, ranging over vast areas of the globe, albatrosses have lived on earth in their current form tens of millions of years longer than Homo sapiens without disrupting or degrading their own habitats".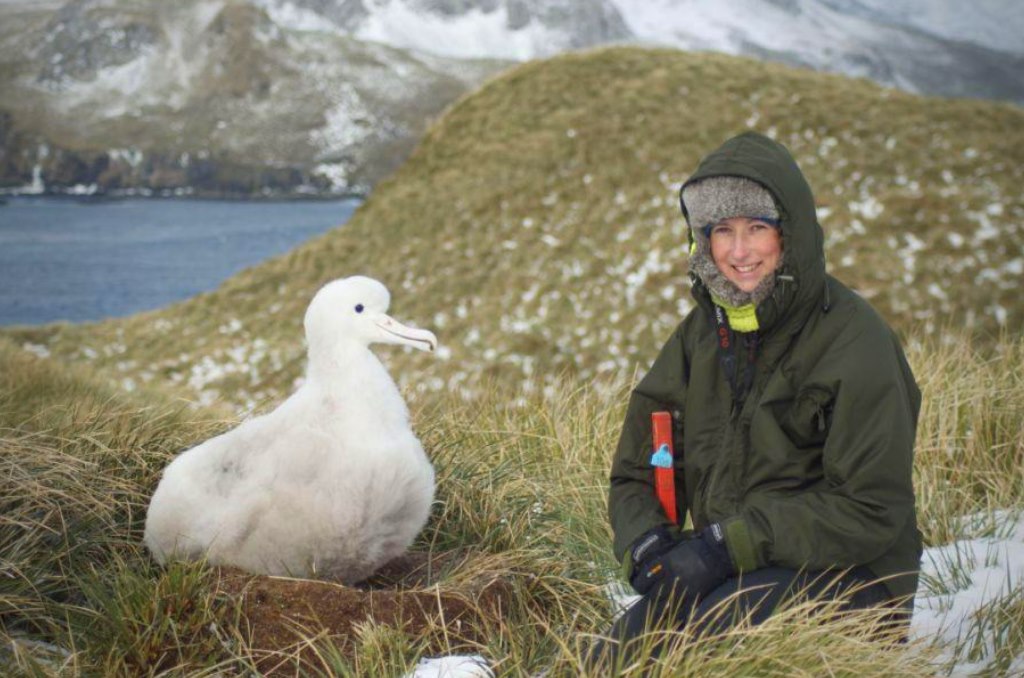 Stephanie Prince with a Wandering Albatross chick on Bird Island
Stephanie Prince (née Winnard) is BirdLife International's Marine Programme Manager, based at the UK's Royal Society for the Protection of Birds (RSPB). Previously, she conducted research on the albatrosses of Bird Island in the South Atlantic with the British Antarctic Survey. She says she was motivated to "sponsor a hectare" by albatrosses being such amazing creatures that are sadly facing many threats to their existence.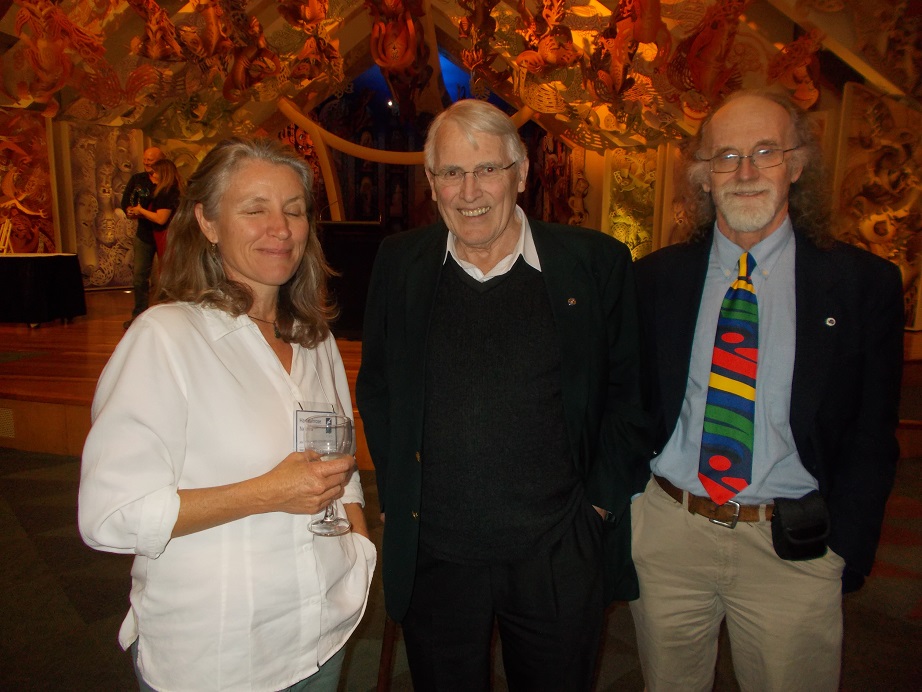 Chris Robertson (centre) with Hannahrose Nevins, American Bird Conservancy and the ACAP Information Officer at an ACAP reception in Wellington, New Zealand in 2017
Chris Robertson QSM*, a now-retired New Zealander biologist, is a doyen of albatross research, well known to marine ornithologists. He writes "After more than 50 years working with the albatross kingdom in the field, upon the autopsy table, and in more than 70 museum collections, I am continually surprised at the steady advances in our understanding of the species uniqueness and behaviour of these pre-eminent avian marine travellers and predators. I have been privileged to assist in New Zealand's improving fisheries bycatch mitigation and successful introduced mammal removals from islands. All albatross islands are the necessary breeding places which will ensure their survival. Any project which cleans their habitat and reduces their mortality on land or at sea, deserves all our unconditional support".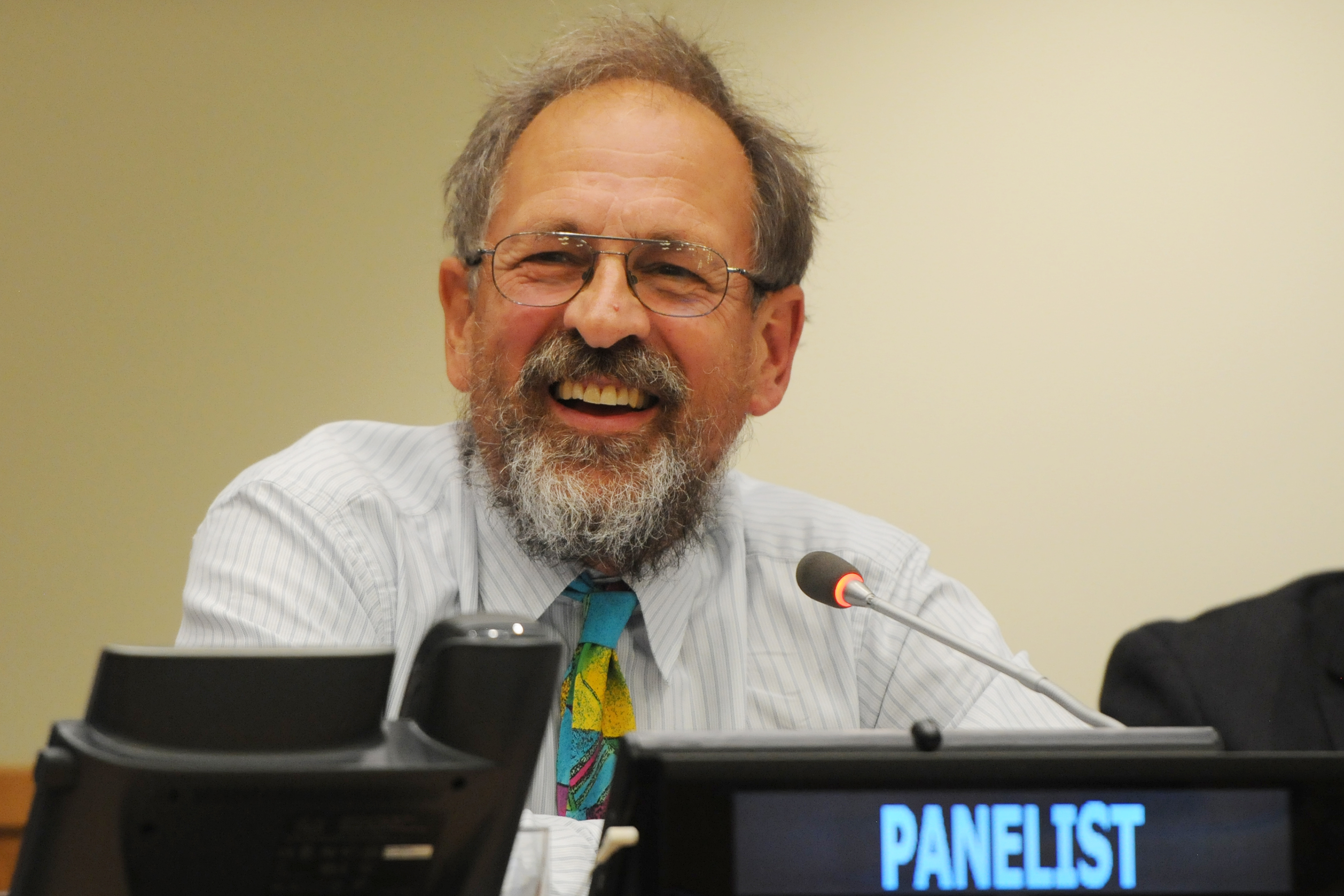 Mark Tasker at an international meeting
"Albatrosses are one of the pinnacles of evolution in harnessing the winds to search much of the world's oceans for food. Sadly, human activities are putting them at risk of extinction" is the considered view of Mark Tasker, retired Head of Marine Advice, Joint Nature Conservation Committee, United Kingdom; past Chair and Vice Chair of ACAP's Advisory Committee; and currently Convenor of the ACAP Taxonomy Working Group. Read about Mark's generous 25-ha sponsorship here.
To sponsor your own hectare (or more) click here.
NOTE: Post adapted from the Marion-Free Project Website with permission.
John Cooper, ACAP Information Officer, 09 July 2021