Post No. 5 for 'WADWEEK2021'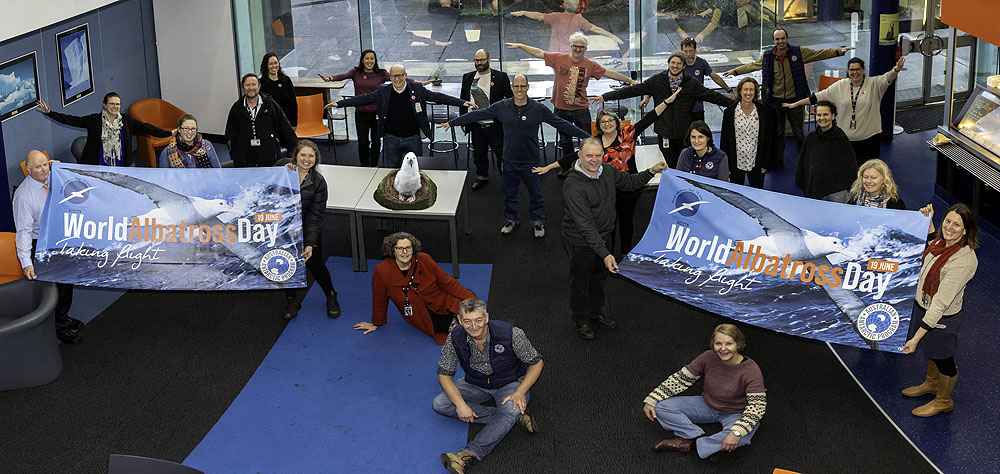 AAD for WAD 2021: socially distanced Australian Antarctic Division staff take flight with nearly-life-sized Wandering Albatross banners for WAD 2021
Banner by the AAD Media & Communications team, albatross photograph by Mike Double, group photograph by Dan Broun
To help raise awareness and celebrate this year's World Albatross Day theme, 'Ensuring Albatross-friendly Fisheries' and 20 years since signature of the Agreement on the Conservation of Albatrosses and Petrels (ACAP) the Australian Antarctic Division (AAD) held a morning tea and Albicake Bake Off last week. AAD staff created six cakes, four of which are illustrated here, and also raised a banner at the AAD Headquarters in Kingston, Tasmania in support of this important message.
Mandi Livesey of the Division (and until recently ACAP's Acting National Contact Point for ACAP) writes "Ensuring Albatross-friendly Fisheries" highlights the success of some fisheries to achieve huge reductions in albatross bycatch, but also the need to constantly evolve fishing practices and management because the crisis continues with thousands of albatrosses, petrels and shearwaters still dying each year from fishing activities. The AAD continues to support all efforts for the conservation of albatrosses including through our long-standing close cooperation with the ACAP Secretariat, which is hosted by Tasmania in Hobart."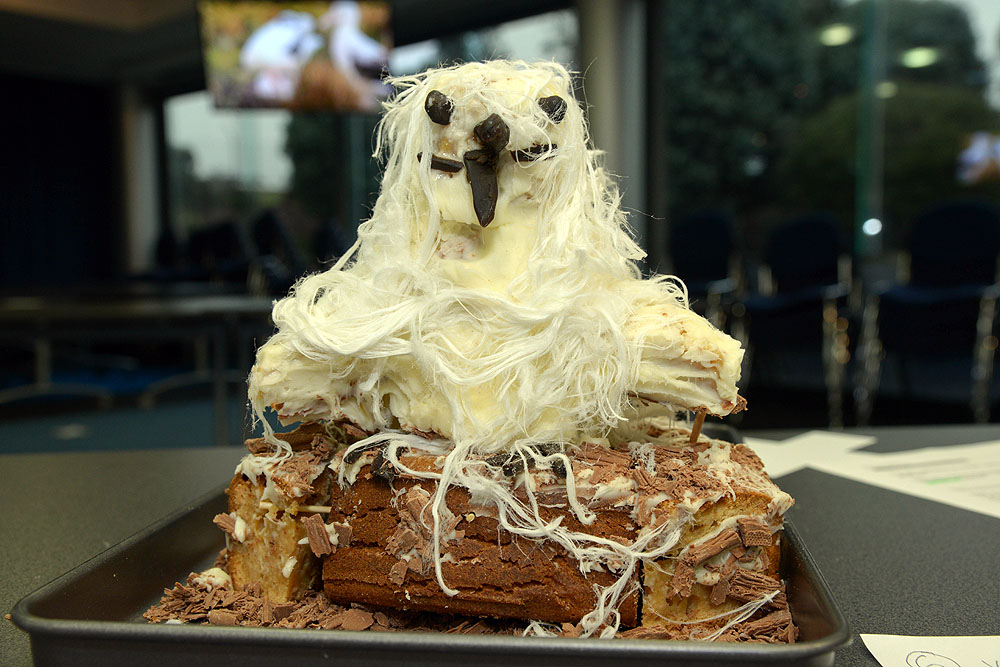 The winning cake: a vanilla Black-browed Albatross chick with Persian fairy floss feathers by Mandi Livesey
Fittingly, Mandi's own entry of a Black browed Albatross chick was judged the winner by popular choice. She informs ACAP Latest News that "all of them were cut up and eaten – mostly all gone after the morning tea."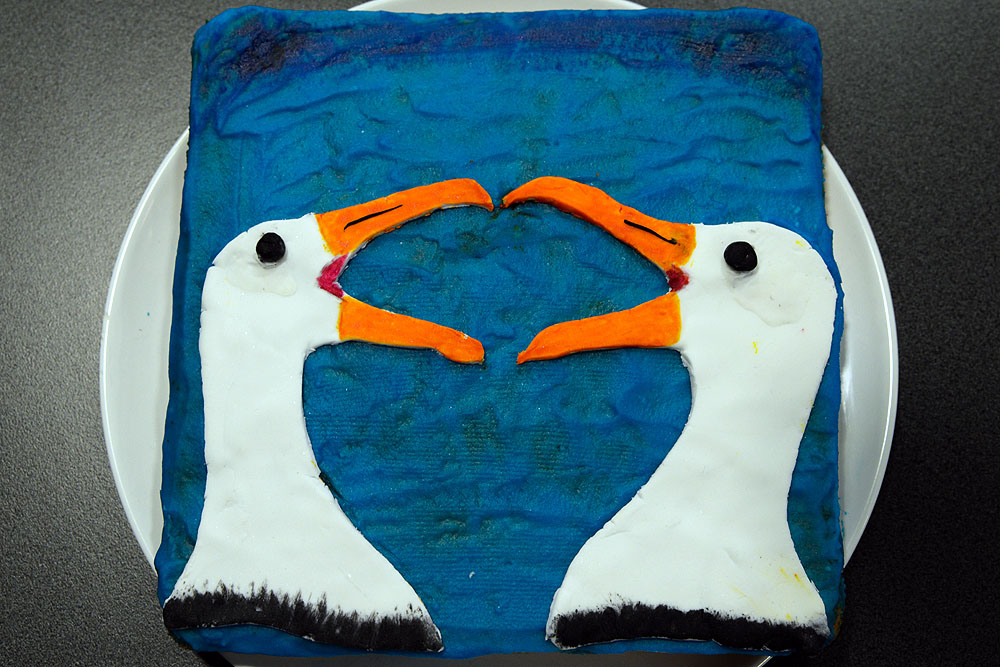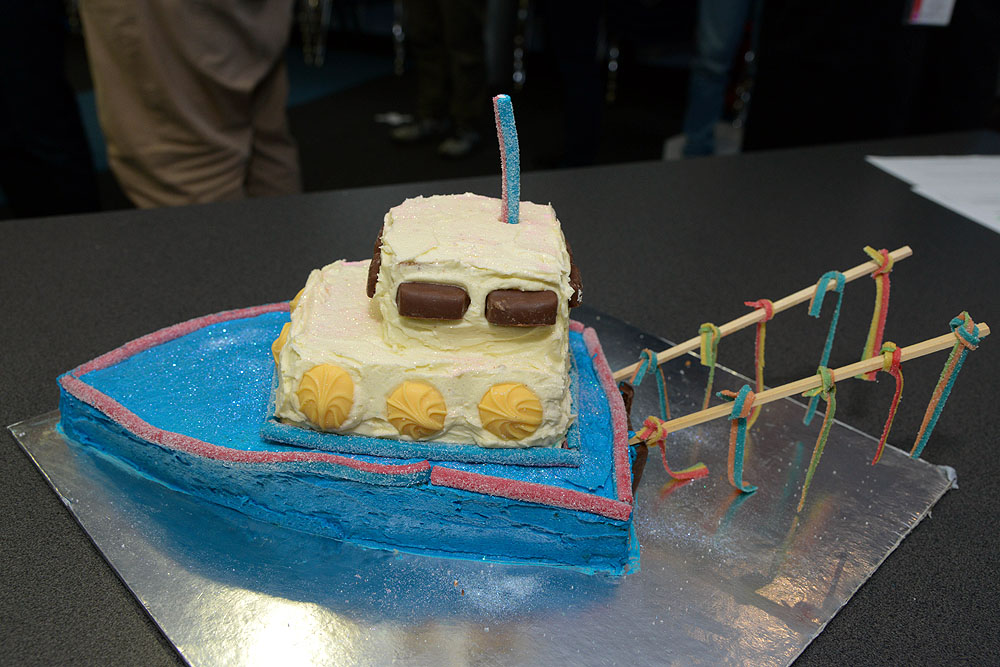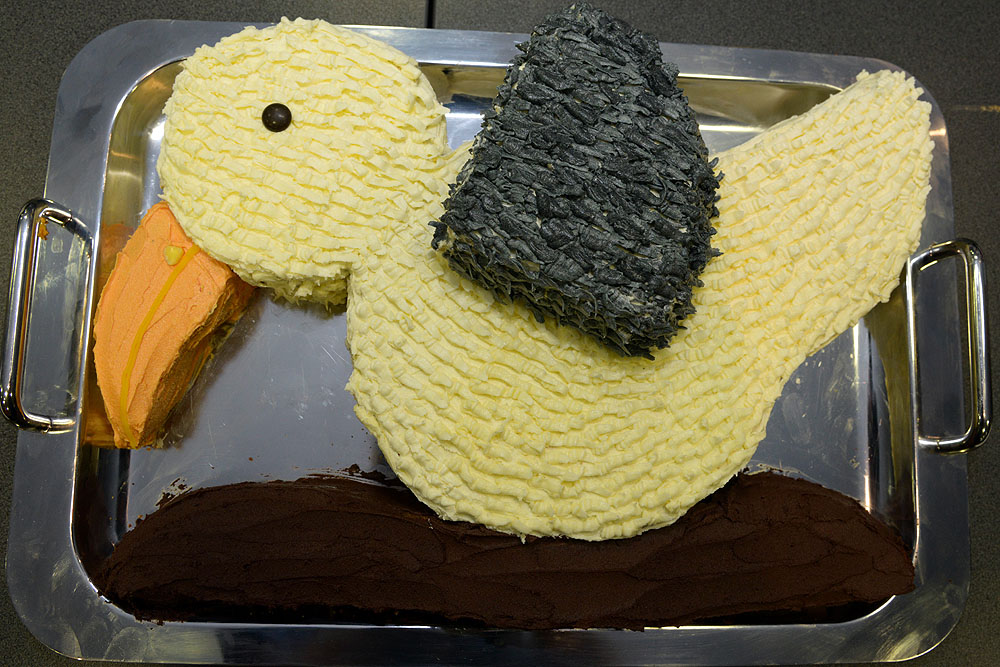 From left: a gluten-free vanilla Royal Albatross cake by Andrea Polanowski; Southern Ocean fishing vessel with bird-friendly tori or bird-scaring lines by Gillian Slocum; Vanilla butter cream Wandering Albatross by Lihini Weragoda; cake photographs by Simon Payne
The AAD's Bake Off follows on last year's international effort organized by ACAP which proved popular with some really amazing entries. It seems Albicake Bake Offs should become a regular feature of World Albatross Day celebrations so a repeat of the international competition in 2022 is on the cards. The ACAP Information Officer regrets he could not accept his own invitation to attend the AAD's Bake Off tea in person, living as he does an ocean away in Cape Town, South Africa. A virtual slice of cake does not quite hit the spot! In compensation ACAP was well represented at the tea by its Executive Secretary, Christine Bogle and "ACAP Artist in Residence" Namo Niumim who created the ACAP Infographics of Tristan, Wandering and Waved Albatrosses to mark 'WAD2021'.
With thanks to Jaimie Cleeland & Mandi Livesey, Australian Antarctic Division.
John Cooper, ACAP Information Officer, 17 June 2021