Post No. 3 for 'WADWEEK2021'
The Seabird Wanderers of ACAP: Agreement on the Conservation of Albatrosses and Petrels. A music video by Kitty Harvill and John Nicolosi

Kitty Harvill, a wildlife conservation artist based in both Brazil and the USA, has produced a new music video for ACAP pro bono in celebration of this year's World Albatross Day on 19 June. The video, entitled 'The Seabird Wanderers of ACAP' includes photographs of all the 31 ACAP-listed species of albatrosses, petrels and shearwaters, with music by John Nicolosi of Niko Records Studio in the USA. Kitty is co-founder of Artists & Biologists Unite for Nature (ABUN) whose two projects for ACAP, last year on albatrosses, this year on petrels, have led to several hundred attractive artworks being made available for ACAP to use in support of its efforts to raise awareness of the serious plight that many albatross populations continue to face.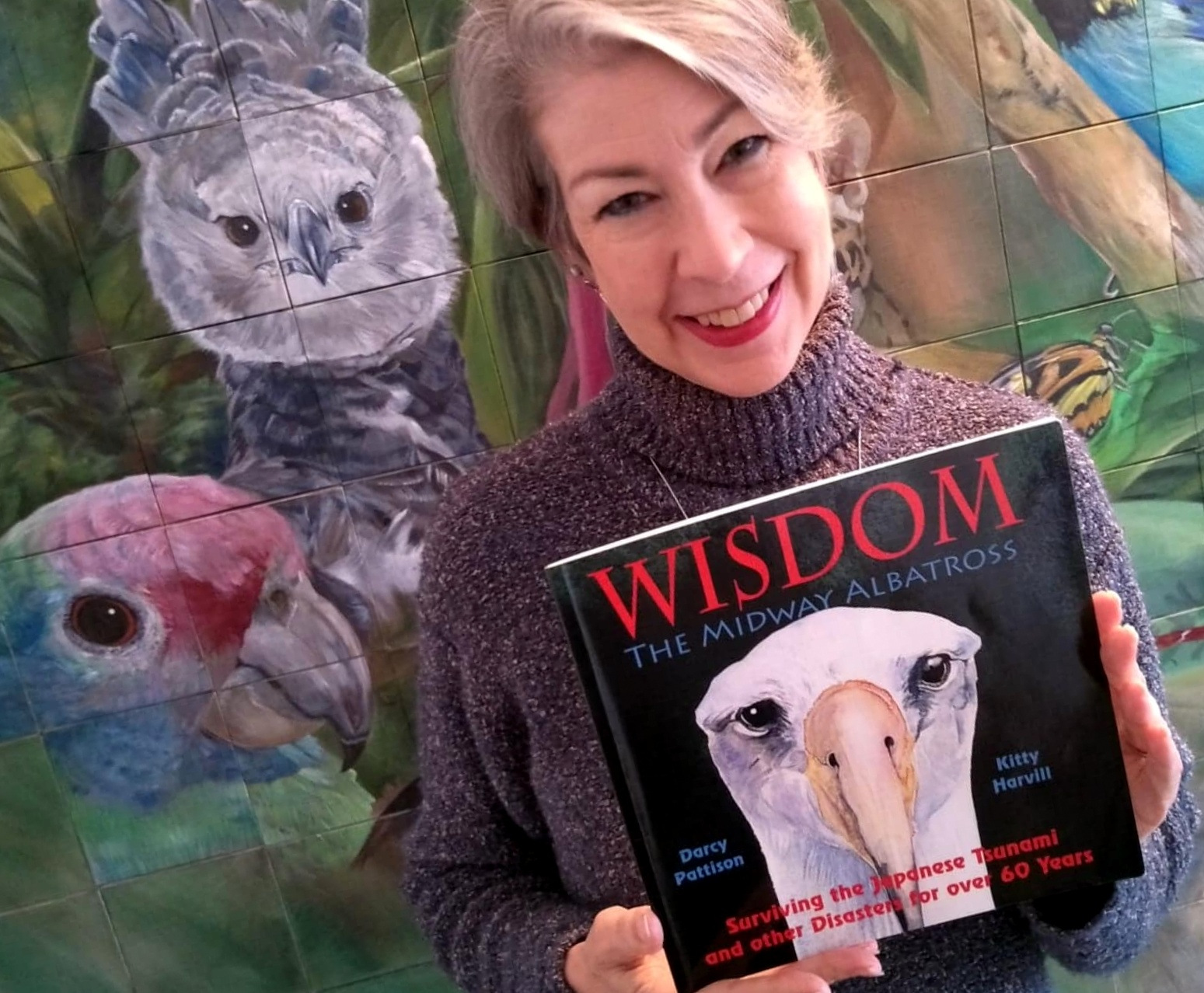 Kitty Harvill, with the book she illustrated about Wisdom, the world's oldest known albatross
Kitty writes "as a conservation artist, I feel it relates to all areas of my life – being mindful of every choice we make and how it affects our planet and those with whom we share it. We have it all in our hands to make changes, but the biggest changes seem to be in the minds and hearts of our fellow human beings."
ACAP intends to show the new video during breaks at its annual meetings, as well as in other situations. It is available for downloading and use in the cause of albatross and petrel conservation by institutions, environmental NGOs and members of the concerned public. Please acknowledge both ABUN and ACAP in its use.
Kitty Harvill and John Nicolosi have previously collaborated on two music videos featuring paintings by members of ABUN, produced last year on albatrosses and this year on petrels.
With grateful thanks to Kitty Harvill and John Nicolosi, as well as to all the photographers named in the video for allowing the use of their work.
John Cooper, ACAP Information Officer, 15 June 2021, updated 16 June 2021