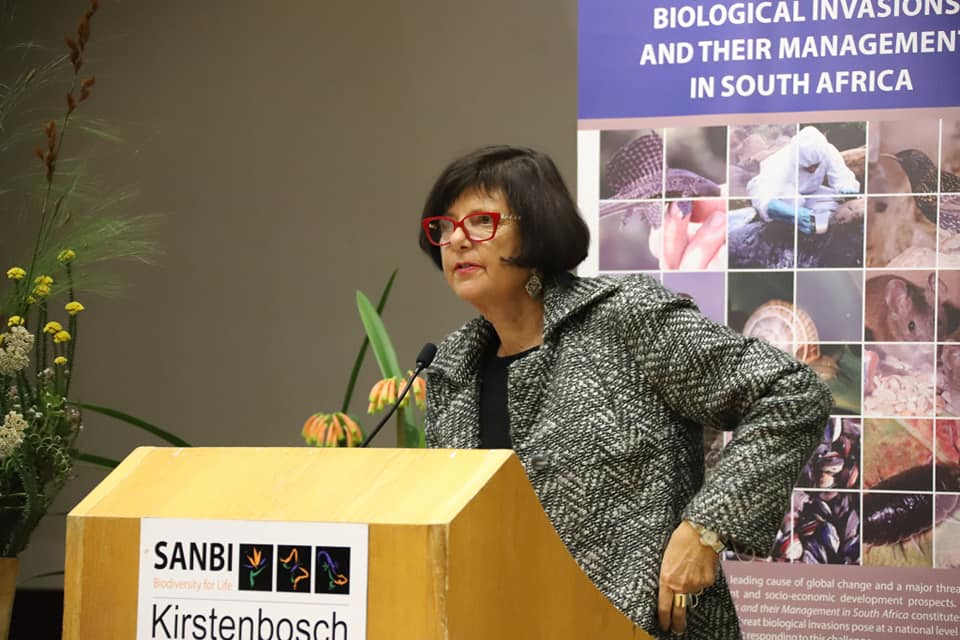 Barbara Creecy, Minister of Forestry, Fisheries and the Environment, at the invasive report launch
The Minister of Forestry, Fisheries and the Environment, Barbara Creecy, officially released South Africa's second national report on biological invasions in Cape Town on 28 May. "The report is the only country-level assessment worldwide that focuses specifically on biological invasions. It places South Africa in a global leading position on the issue."
In her speech the Minister stated thatThe Status of Biological Invasions and their Management in South Africa in 2019 provides a comprehensive national-scale assessment of the status of biological invasions in the country [which includes sub-Antarctic Marion Island] and captures the effectiveness of the country's response to this issue. It collates information from foundational research and on-going monitoring programmes and interprets it in order to help policy-makers and managers improve how biological invasions are managed. The Minister noted that biological invasions pose a major threat to South Africa's biodiversity, and to the livelihoods and health of the country's people.
"Since the adoption of the Working For… programmes in 2005, the government has been relentless in its efforts to effectively manage alien and invasive species in the country. To address the problem, over a billion Rand has been spent a year on projects to control biological invasions and create jobs by the Department's Environmental Programmes."
Although most of the alien taxa that are covered in the biological invasions report are plants, there are also mammals listed that are wreaking havoc on the environment. These include House Mice Mus musculus. South Africa's Marion Island is overrun by introduced mice, which are having a devastating impact on the ecology of the island, and over the last two decades have taken to attacking and killing the island's globally important albatross and burrowing petrel populations. The importance and urgency of eradicating these introduced predators from the island has been recognised as a priority action, both in terms of the Management Plan for the island's Special Nature Reserve status and the designation of the House Mouse population at Marion Island as a Category 1A species in the Alien and Invasive Species Regulations. The South African Department of Forestry, Fisheries and the Environment (DFFE) is working in partnership with BirdLife South Africa to prepare for an eradication operation, the Mouse-Free Marion Project, that will reclaim the island for its seabirds and other indigenous biodiversity. Acording to its Project Manager, Anton Wolfaardt, eradicating mice from an island the size of Marion will not be an easy task. However, with meticulous planning, adherence to the lessons learned from successful eradications on other sub-Antarctic islands and the implementation of best-practice approaches, it can be achieved. Anton adds "Successful eradication of introduced mice from Marion Island will represent an internationally significant achievement, and a lasting conservation legacy for this globally important sub-Antarctic island."
Read more on the Minister's speech here.
Reference:
SANBI & CIB 2020. The Status of Biological Invasions and their Management in South Africa in 2019. Kirstenbosch: South African National Biodiversity Institute & Stellenbosch: DSI-NRF Centre of Excellence for Invasion Biology. 71 pp.
With thanks to Anton Wolfaardt, Project Manager, Mouse-Free Marion Project.
John Cooper, ACAP Information Officer, 12 June 2021