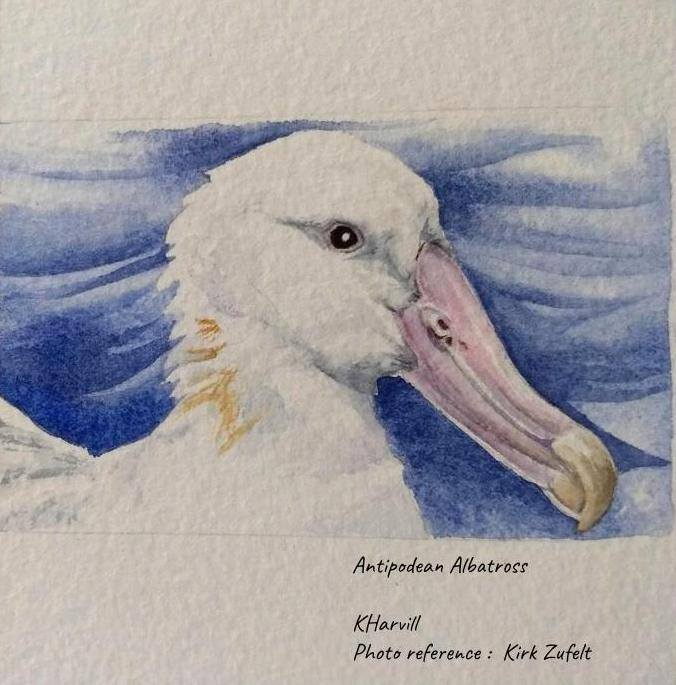 Antipodean Albatross, artwork by Kitty Harvill from a photograph by Kirk Zufelt
A video directed by Brendan Donovan and presented by Live Ocean, a "marine conservation charity with a mission to amplify and accelerate positive ocean action in New Zealand", has been selected as a 2021 Sylvia Earle Ocean Conservation Award finalist as part of the MY HERO International Film Festival.
'Sentinel of the Ocean' a story of the plight of the Antipodean Albatross
The short (4 min 12 sec) Live Ocean video was released last year to mark the inaugural World Albatross Day on 19 June to draw attention to the conservation crisis facing New Zealand's endemic Antipodean Albatross Diomedea antipodensis (globally Endangered and Nationally Critical). Winners will be announced on World Ocean Day on 8 June, just 11 days before this year's World Albatross Day with its theme "Ensuring Albatross-friendly Fisheries". See details of all the seven finalists here. Read about Live Ocean and its work for the Antipodean Albatross here.
John Cooper, ACAP Information Officer, 16 May 2021