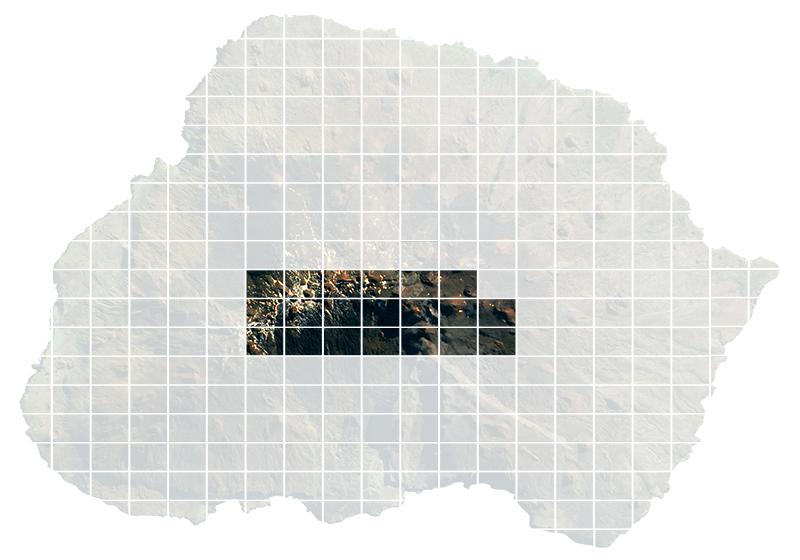 Each exposed rectangle represents 100 hectares of Marion Island funded to date
The "Sponsor a Hectare" campaign of the Saving Marion Island's Seabirds Mouse-free Marion Project has reached its first milestone. A total of a little over 2012 hectares generating over two million South African Rands has now been sponsored. Why this exact figure? Well, this is the size of New Zealand's Antipodes Island from which an estimated 200 000 introduced House Mice Mus musculus were successfully eradicated by a helicopter bait drop in 2016, with confirmation of success coming two years later.
The cost of the Antipodes Island Million Dollar Mouse project was partially covered by a crowd-funding exercise that aimed to raise a million New Zealand Dollars from non-government sources. To encourage contributions from Kiwis (and from outside New Zealand) the project's website and Facebook page regularly updated a map of the islands with crossed-out mice signifying progress. With this as inspiration, ACAP's Information Officer proposed a similar campaign for Marion Island to BirdLife South Africa, which is partnering with the South African Department of Forestry, Fisheries and the Environment to rid the island of its mice in 2013.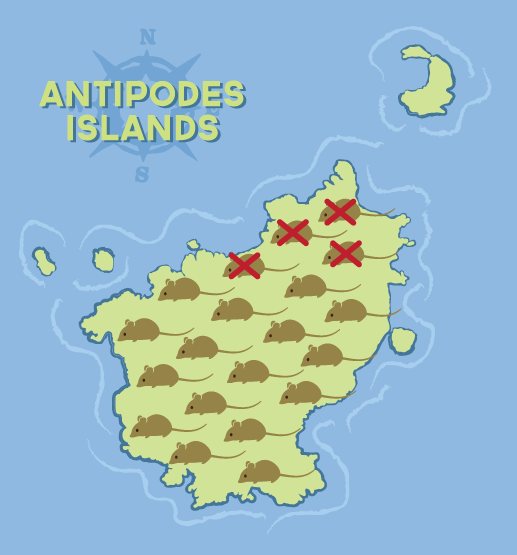 Four mice gone! Early days with Antipodes Island's Million Dollar Mouse campaign
ACAP Latest News reached out to New Zealand Department of Conservation's Stephen Horn who as Project Manager led the Antipodes eradication (and is a member the M-FM's Scientific and Technical Advisory Group). In reply he writes "The eradication of mice from Antipodes Island was powered by people contributing to the project. School kids, businesses, individuals, groups, and everyday people getting involved were the reason the project got off the ground and succeeded. With mice gone, land birds such as snipe and pipits are thriving and there are signs of burrowing seabirds recovering from the extensive damage caused by mice. I was privileged to lead the project on Antipodes Island and help people reach their goal and save its precious wildlife. From the Antipodes Islands in New Zealand's sub-Antarctic region to South Africa's remote Marion Island the challenges are immense but worthy and every dollar and hectare count. I urge you to get involved to provide seabirds and the unique wildlife on Marion Island somewhere safe to breed and help undo the damage caused by mice".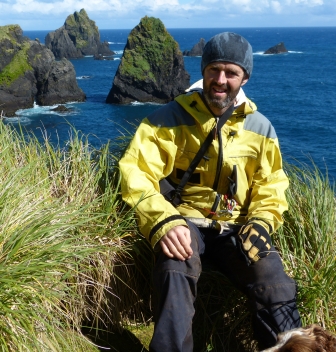 Stephen Horn on Macquarie Island
So what is the next campaign challenge for Marion's Sponsor a Hectare initiative? Surely it has to be 6520 ha funded, the size of Gough Island in the South Atlantic, which the UK's Gough Island Restoration Programme aims to rid of its of its albatross-killing mice in a few months' time. Would be good to reach this second milestone by the time the last helicopter load of bait is dropped on Gough this year, but with the aim to crowd fund 30 000 ha there will still be a long way to go!
Follow the Antipodes Island eradication to ultimate success in the archives of ACAP Latest News.
With thanks to Stephen Horn.
John Cooper, ACAP Information Officer, 10 May 2021