Note: Taken from a news post at the Mouse-Free Marion website, with links added.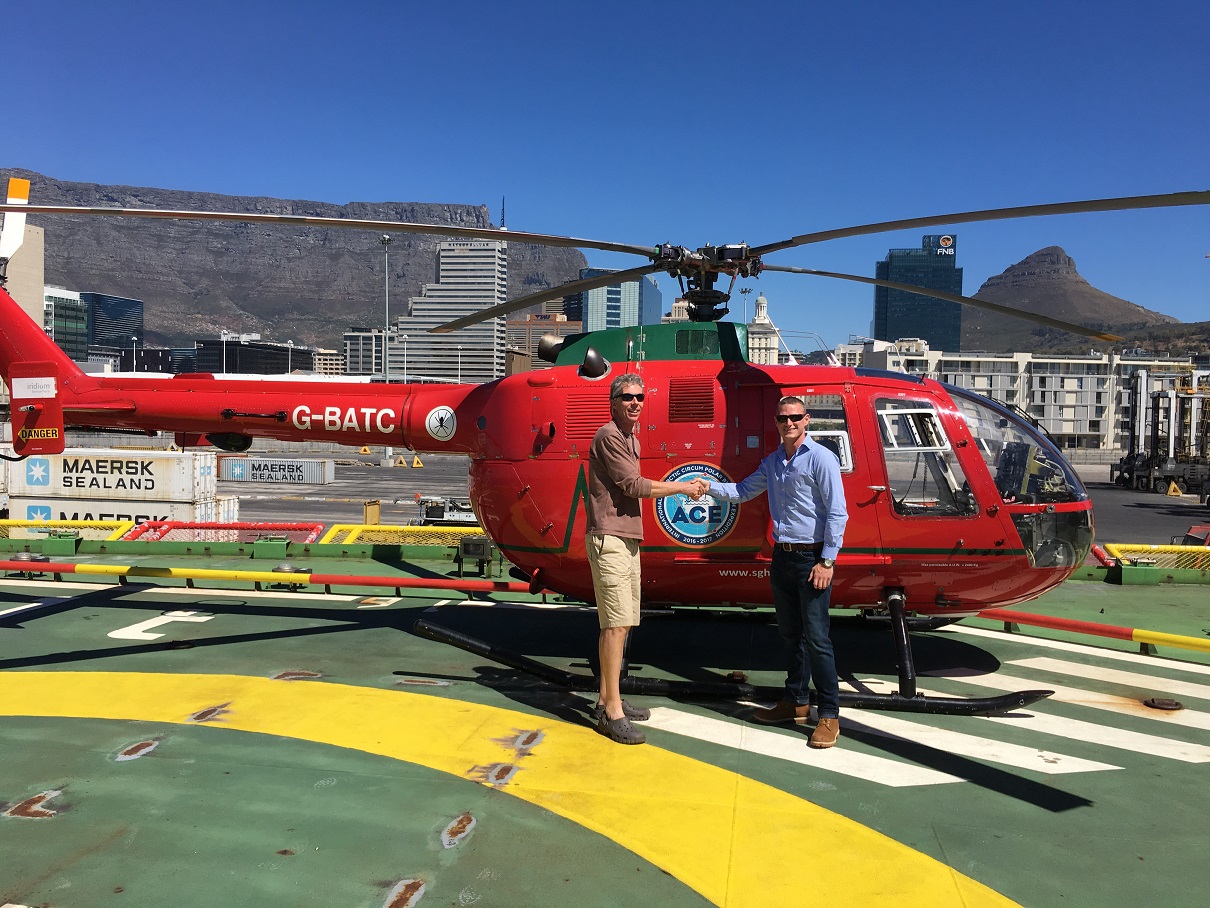 One of the donated Bölkow helicopters aboard the Akademik Treshnikov in Cape Town, South Africa after completion of the Antarctic Circumnavigation Expedition, photograph from Peter Ryan (left)
At 29 000 hectares, Marion Island will be the largest island by far on which an attempt will be made to eradicate mice in a single exercise. Consequently, the logistical, planning and funding demands for the project are substantial. We are very pleased to report that the project has recently received the first tranche of a US$1 million donation made by Dr Frederik Paulsen Jr and Ferring Pharmaceuticals.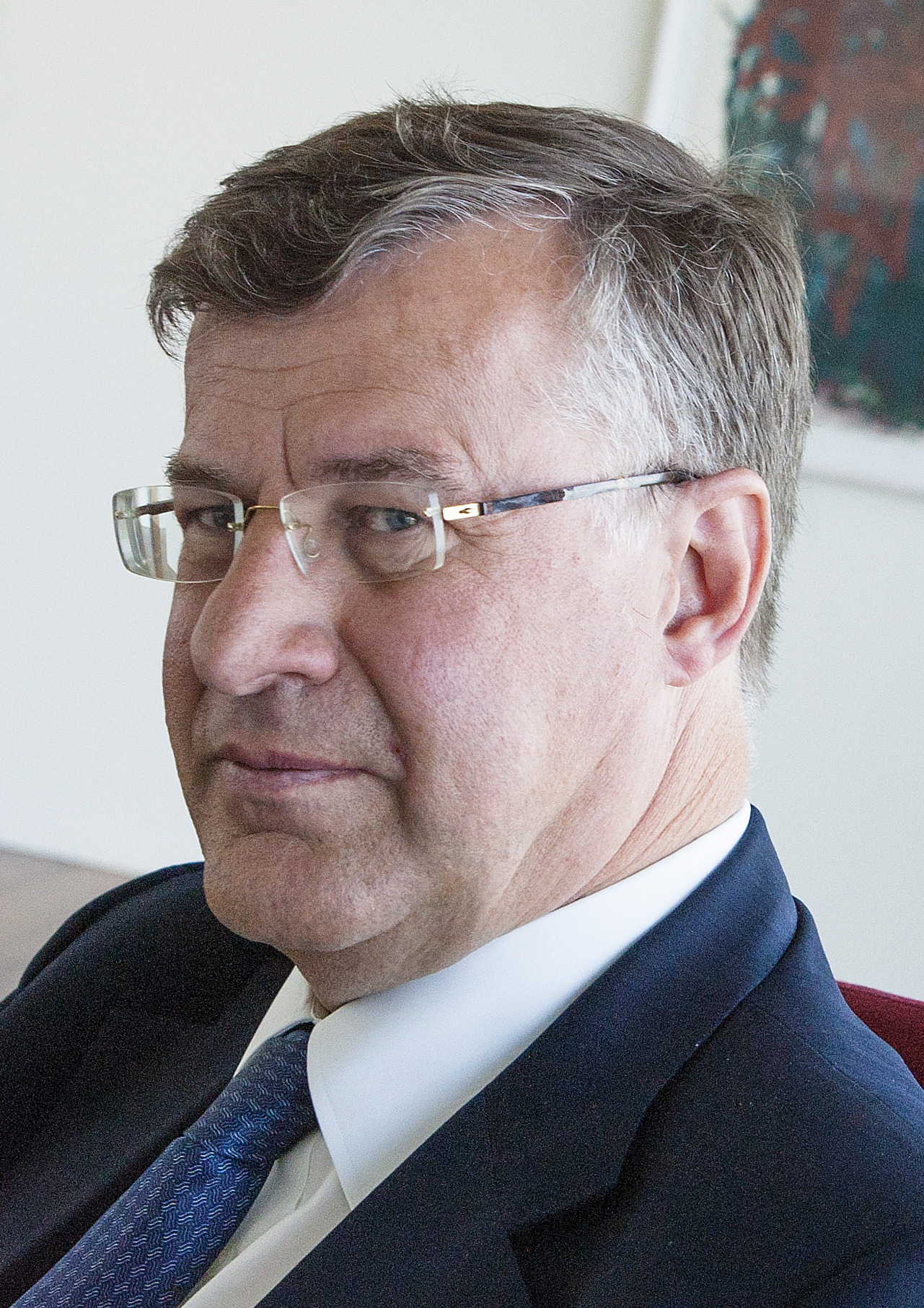 Dr Frederik Paulsen Jr
Dr Paulsen is a businessman, academic, philanthropist and explorer, with a deep interest in the history and science of polar exploration. He is a founding member of the Swiss Polar Institute, established in 2015. The first project of the Swiss Polar Institute was the Antarctic Circumnavigation Expedition (ACE), an international scientific voyage to the Antarctic and sub-Antarctic from December 2016 to March 2017, comprising 60 researchers from 30 different countries to study the impact of climate change on the Southern Ocean. Dr Paulsen provided logistical and funding support to the ACE, in which he also took part. His participation in the ACE voyage, which included a visit to Marion Island, was the genesis for Dr Paulsen's interest in the project to save Marion Island's seabirds by eradicating the introduced mice.
The US$ 1 million is not the first contribution that Dr Paulsen has made to the project or to large-scale rodent eradication initiatives on islands more broadly. Previously, Dr Paulsen contributed substantial funds to help support the operation to rid South Georgia (Islas Georgias del Sur)* of invasive rats and mice. Following the completion of the successful eradication operation … Dr Paulsen donated three Bölkow BO105 helicopters that were used in that operation, along with spares, fuel and US$25 000 to the South African Government for use at Marion Island.
These very generous donations by Dr Paulsen to the Marion project have helped catalyse significant momentum in our preparations and planning for the eradication operation. They will enable the project to secure dedicated fund-raising capacity and to cover salaries of key project staff, amongst other things. In addition to his generous funding contributions to the project, Dr Paulsen also serves as a Director of the Mouse-Free Marion Non-Profit Company Board.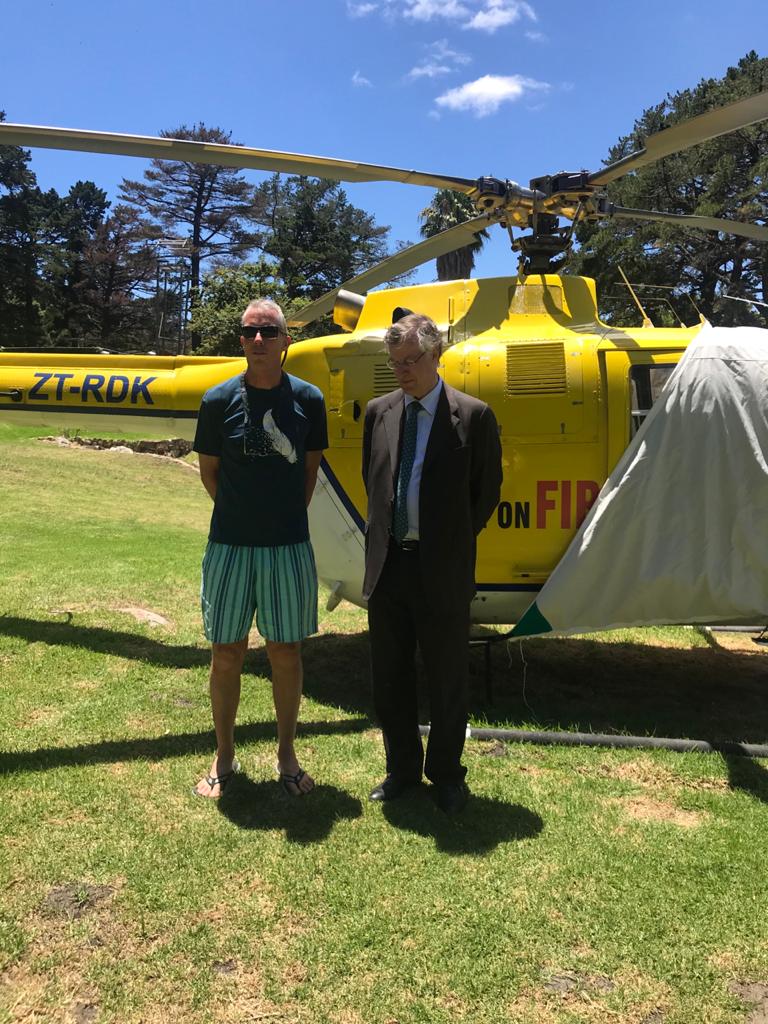 Peter Ryan, FitzPatrick Institute, University of Cape with Frederik Paulsen (right), with one of three donated Bölkow helicopters in Cape Town
John Cooper, ACAP Information Officer, 19 April 2021
*A dispute exists between the Governments of Argentina and the United Kingdom of Great Britain and Northern Ireland concerning sovereignty over the Falkland Islands (Islas Malvinas), South Georgia and the South Sandwich Islands (Islas Georgias del Sur y Islas Sandwich del Sur) and the surrounding maritime areas.