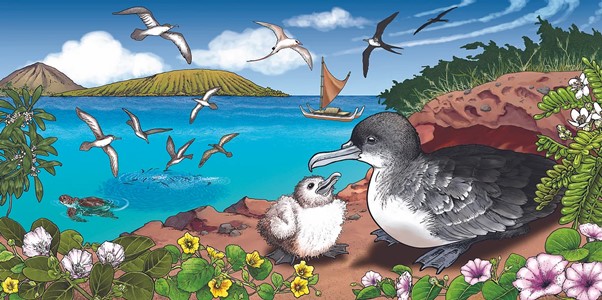 Illustration from the Freeman Seabird Preserve website
David Hyrenbach (Hawai'i Pacific University) and Michelle Hester (Oikonos Ecosystem Knowledge) study Wedge-tailed Shearwaters or 'Ua'u kani Ardenna pacifica; Least Concern) in the Freeman Seabird Preserve on the Hawaiian island of Oahu. They write of the most recent breeding season in the Hawaii Audubon Society journal 'Elepaio:
"We report on the ongoing monitoring and restoration efforts of the Freeman Seabird Preserve by Hawaii Audubon Society and Hawai'i Pacific University since 2009, share findings from the 2020 breeding season, and briefly discuss the plans for future monitoring, habitat restoration, and predator control at the site. This year we documented 358 active nests. This year's nest count is the highest to date, surpassing the previous peak documented in 2019."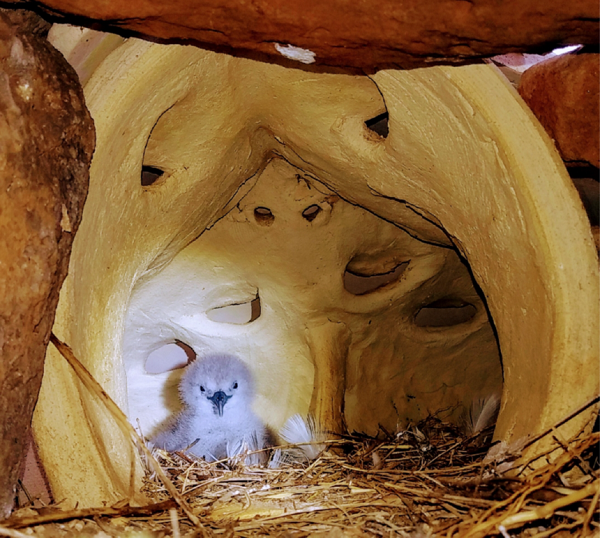 A Wedge-tailed Shearwater chick inside a ceramic nest, photograph by David Hyrenbach
Breeding performance in occupied ceramic nests for the second year since their establishment was similar to that of existing natural and roof tile nests in the preserve (80.0 % (8/10) in the ceramic nests and 72.7% (48/66) in the control nests). Additional restoration and management efforts in 2021 will involve monitoring the colony and enhancing breeding habitat.
Read more on the ceramic nests and on the 2019 breeding season here.
Reference:
Hyrenbach, K.D. & Hester, M. 2021. 2020 shearwater nesting at Freeman Seabird Preserve: highest breeding pairs, average chick success, and increasing occupation of ceramic homes. 'Elepaio 81(2): 13-14.
John Cooper, ACAP Information Officer, 17 March 2021