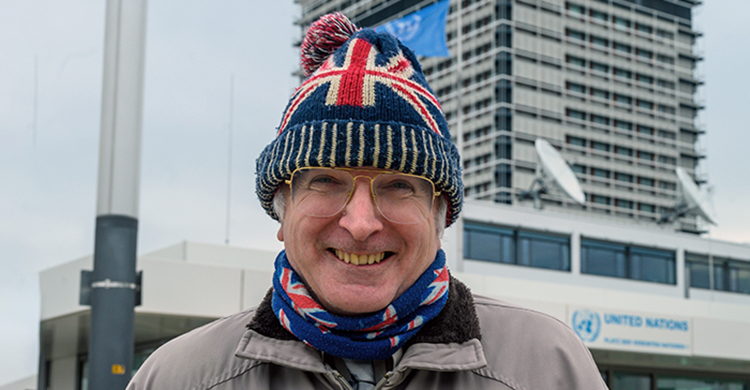 Robert Vagg, 1961-2021, photograph by Martin Wein
Robert Vagg, friend and supporter of ACAP, and long-term English language Editor and Report Writer in the Secretariat of the Convention on the Conservation of Migratory Species of Wild Animals (CMS), passed away unexpectedly in Bonn, Germany on 13 January, just three days before his 60th birthday (click here).
ACAP's Information Officer first met Robert at the Seventh Meeting of the Conference of the Parties to CMS held in Bonn in Germany in September 2002 which he was attending on the BirdLife International delegation as the NGO's Coordinator of its (then) Seabird Conservation Programme. Robert was on the UK Delegation as International Conservation Policy Adviser, Zoos and International Species Conservation, Department for Environment, Food & Rural Affairs (DEFRA). This was a time between the signing of the Albatross and Petrel Agreement in 2001 and its adoption in 2004, so the conservation of albatrosses was on the agenda, with a mention in a message to the COP from H.R.H the Prince of Wales (himself a noted supporter of albatross conservation) calling on the international community to ratify and implement the Agreement as soon as possible. In conversation it was clear that Robert also had a personal interest in the conservation of albatrosses and petrels and in the development of ACAP.
Robert joined the CMS Secretariat in 2005. Ever since then, and most recently late last month, he regularly contacted the ACAP Secretariat with news of and links to popular articles and scientific papers he had come across that were of relevance to the work of the Agreement. Many of these "heads-up" resulted in posts to ACAP Latest News, the most recent on the first of January this year, accompanied by his season's greetings and a message for all the best for 2021.
Mark Tasker, current Convenor of ACAP's Taxonomy Working Group (and past Chair of the Advisory Committee) knew Robert Vagg well as a friend and past colleague at DEFRA. He writes of Robert to ACAP Latest News: "My main memory will always be of his very dry sense of humour and inability to take any incompetent seniors seriously. He also adopted that great catch-phrase from the TV series (UK version) of House of Cards 'You might very well think that; I couldn't possibly comment' to fit a number of situations."
Robert Vagg leaves his parents and a brother. ACAP extends its condolences to them, and to all his past and present colleagues within the Bonn Convention and in the United Kingdom.
With thanks to Mark Tasker.
John Cooper, ACAP Information Officer, 20 January 2021.