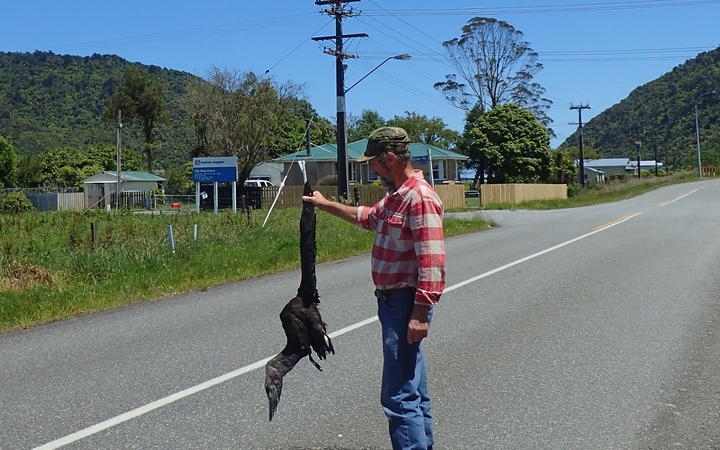 Westland Petrel fallout victim near Greymouth
New Zealand's endemic globally Endangered and ACAP-listed Westland Petrel Procellaria westlandica breeds only in a single locality near the community of Punakaiki on the west coast of South Island. Fledglings heading for sea at night become disoriented by the street lights in Punakaiki and crash-land on the roads, where they are often severely injured, struck by cars or eaten by predators. To reduce this a trial project has led to bright LED lights being switched off along a 3.4-km section of the state highway for two months from 8 November to 8 January during which time fledging occurs (click here).
The Westland Petrel Conservation Trust reports that "turning off the street lights this fledgling season has proven to be a great success for the Westland petrels. This year was proposed as a pilot run, but with such positive results we're optimistic that it can become a permanent solution." With the street lighting turned off in Punakaiki, 10 of the birds had crash landed there, instead of the usual 15 to 25, according to one report.
However, the trust also says that although the problem has been lessened in Punakaiki, it was now worse 44 km farther south in the town of Greymouth where highway lights have not been switched off. The Department of Conservation (DOC) has so far found 22 downed petrels in Greymouth of which "17 were able to be released, four were found dead and one was euthanised". This is about twice the usual number picked up "10 being the highest number previously, and for the first time they were found in the centre of town".
Most downings in Greymouth are considered linked to lighting, including lights on businesses and other private properties. "Where petrels have come down … we have talked with property owners and others with lights in the area to ask about lights being turned off, where possible." LED streetlights were introduced in Greymouth last year. A spokesperson for the district council said it was looking into whether it was possible to turn the lights down or change the colour tone to orange (click here).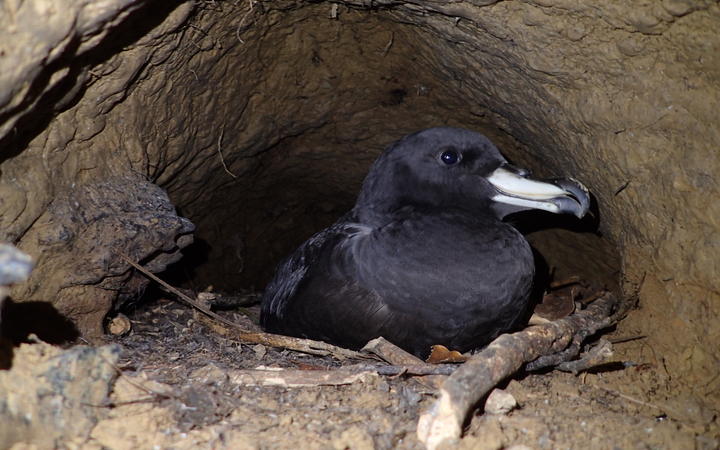 A Westland Petrel in its burrow
Photographs by Bruce Stuart-Menteath, Chair, Westland Petrel Conservation Trust
John Cooper, ACAP Information Officer, 05 January 2021