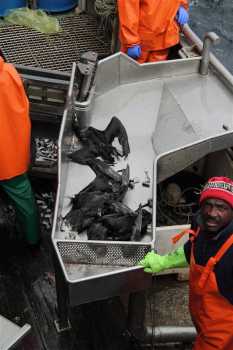 Hooked White-chinned Petrels come aboard a Namibian longliner in 2012 before bird-scaring lines became mandatory in 2015, photograph by John Patterson
Namibia's combined demersal longline and trawl fisheries for two species of hake Merluccius has this week received a five-year certification of sustainability from the Marine Stewardship Council (MSC). The combined fisheries catch around 160 000 tonnes annually. Stock assessments are shared with neighbour South Africa's MSC-certified (since 2004) hake trawl fishery as the fish is considered to represent a single stock. There is 100% fishery observer coverage in the trawl fleet and approximately 50% on the smaller longline vessels (which have less capacity to for observers).
The Albatross Task Force in Namibia has also worked with the fishery, sending its own observers to sea to record seabird bycatch and compliance with mitigation measures, and co-ordinating the manufacture by women and training in the use of locally-made bird-scaring lines (BSLs). These efforts have reduced the levels of bycatch of albatrosses and petrels. Use of BSLs to a required design and deployment are now mandatory in Namibia's hake fishery, with regulations promulgated in 2015 to reduce the incidental by-catch of seabirds in the Namibian hake demersal trawl (No. 269) and hake demersal longline (No. 270) fisheries (click here). Notably, "best-practice" night setting and line weighting as recommended by ACAP are not prescribed for the longline fishery. Prior to adoption of the regulations, Namibia had high numbers of seabirds (especially Vulnerable White-chinned Petrels Procellaria aequinoctialis) killed by its fisheries with an estimated 30 000 birds killed by the combined fisheries in 2008 (click here). Seabird bycatch has now been greatly reduced according to the MSC's Final Draft Report on the Namibia hake demersal trawl and longline fishery – although problems do remain with compliance.
"ATF-Namibia works with the hake demersal longline and trawl fisheries, consisting of 13 and 56 vessels, respectively, operating out of the ports of Walvis Bay and Lüderitz. In 2019/20 the team spent 129 days sea observing seabird mortality from fishing vessels and undertook outreach activities that included training workshops, distribution of seabird identification guides and beach clean ups" (click here). "There's been strong progress in seabird bycatch reduction in the fishery, but there are some outstanding elements that need to be addressed," explained Titus Shaanika, Seabird Bycatch Mitigation Instructor from the Albatross Task Force Namibia. "We'll continue assisting and collaborating with the Namibian Hake Association and the entire Namibian fishing industry regarding seabird bycatch data collection and mitigation measures."
Namibia has produced the text of a National Plan of Action – Seabirds, but it seems it has not yet been officially adopted by the government.
Read more about the new certification here and here.
References:
Control Union 2020. Marine Stewardship Council (MSC) Final Draft Report Namibia hake demersal trawl and longline fishery on behalf of Ministry of Marine Resources (MFMR) and the Namibian Hake Association (NHA) Prepared by Control Union UK Ltd. Lymington: Control Union UK Ltd. 383 pp.
Paterson, J.R.B., Yates, O., Holtzhausen, H., Reid, T., Shimooshili, K., Yates, S., Sullivan, B.J. & Wanless, R.M. 2017. Seabird mortality in the Namibian demersal longline fishery and recommendations for best practice mitigation measures. Oryx 53(2): 300-309.