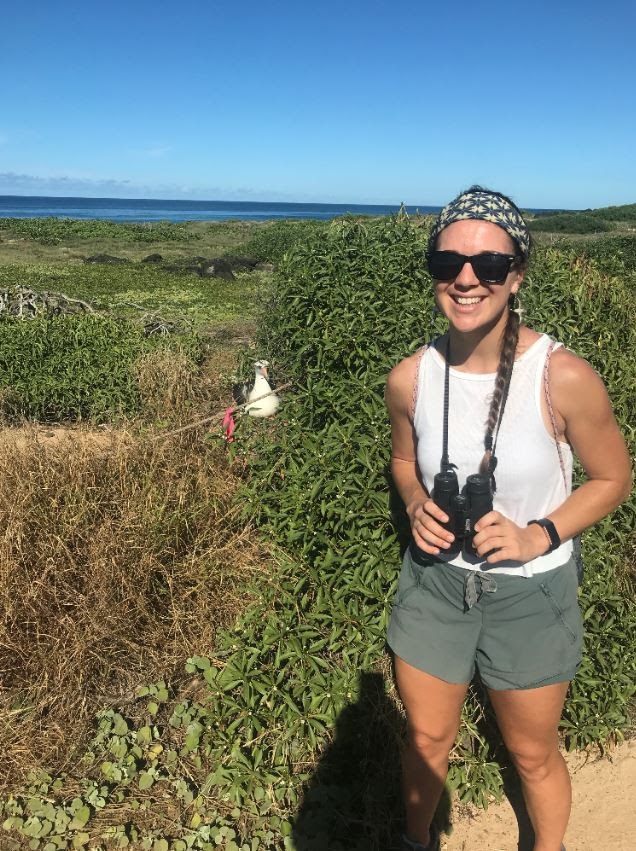 Jennifer Urmston in the Kaena Point Natural Area Reserve on Oahu
Jennifer Urmston is currently a Masters student in marine science in David Hyrenbach's Pelagicos Lab at the Hawai'i Pacific University on the island of Oahu. Her thesis research examines fallout of Wedge-tailed Shearwaters (WTSH) or 'Ua'u kani Ardenna pacifica after a change in highway lighting in south-east Oahu. She plans to defend her thesis next month.
Jennifer was also a Directorate Fellow with the US Fish and Wildlife Service during the northern summer this year, when she worked on a project to document Wedge-tailed Shearwater colonies on Oahu. She writes: "the 'Ua'u kani is one of the most abundant seabird species on the Hawaiian Islands. Conservation measures including pest control, habitat restoration, and artificial nesting habitat have increased 'Ua'u kani populations at some well-managed colonies by up to 400%. However, the urbanization of the islands poses a number of threats to these birds."
A Wedge-tailed Shearwater flies over roped-off breeding habitat on Popoia Island, a State of Hawaii Division of Forestry & Wildlife Seabird Sanctuary off the east coast of Oahu
By collaborating with partners who monitor the island's colonies, Jennifer updated the colony atlas for WTSH on Oahu with the most recent population counts and colony information. She also created an ArcGIS web map to display the colonies and data layers of conservation concern. The story map provides background on Oahu's Wedge-tailed Shearwaters and introduces the interactive web map. She hopes that the information about WTSH colonies in a web map can help prevent future disturbance to colonies.
"Blinded by the Light: Shearwater Attraction to Artificial Light along Kalanianaole Highway" – a lecture by Jennifer Urmston for the Hanauma Bay Education Program
As well being a budding marine ornithologist, Jennifer can bake a mean banana mango albicake. She also has artistic skills, as witnessed by her collage of a Laysan Albatross constructed from marine debris.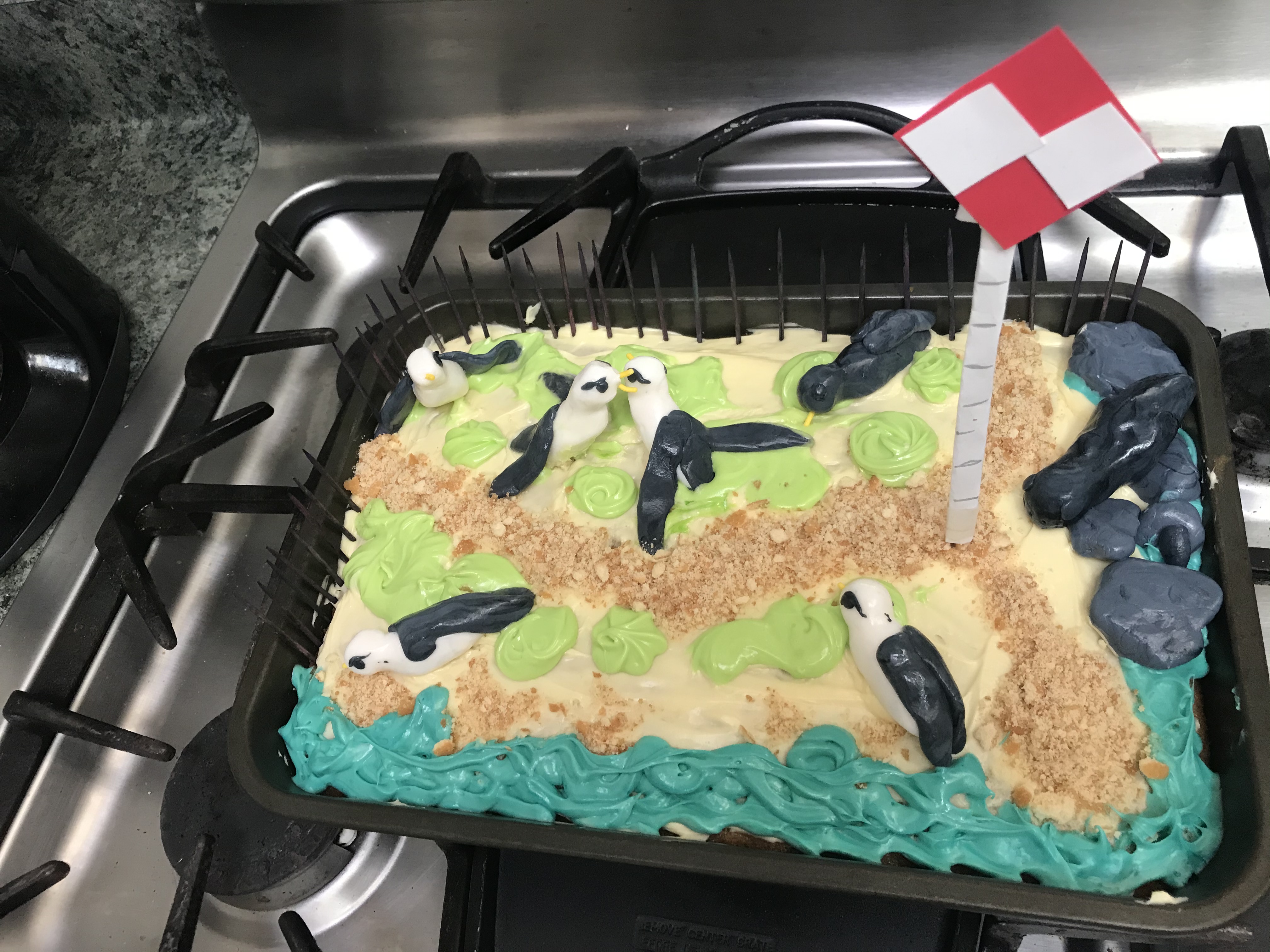 "Kaena Point Cake" by Jennifer Urmston for the World Albatross Day Great Albicake Bake Off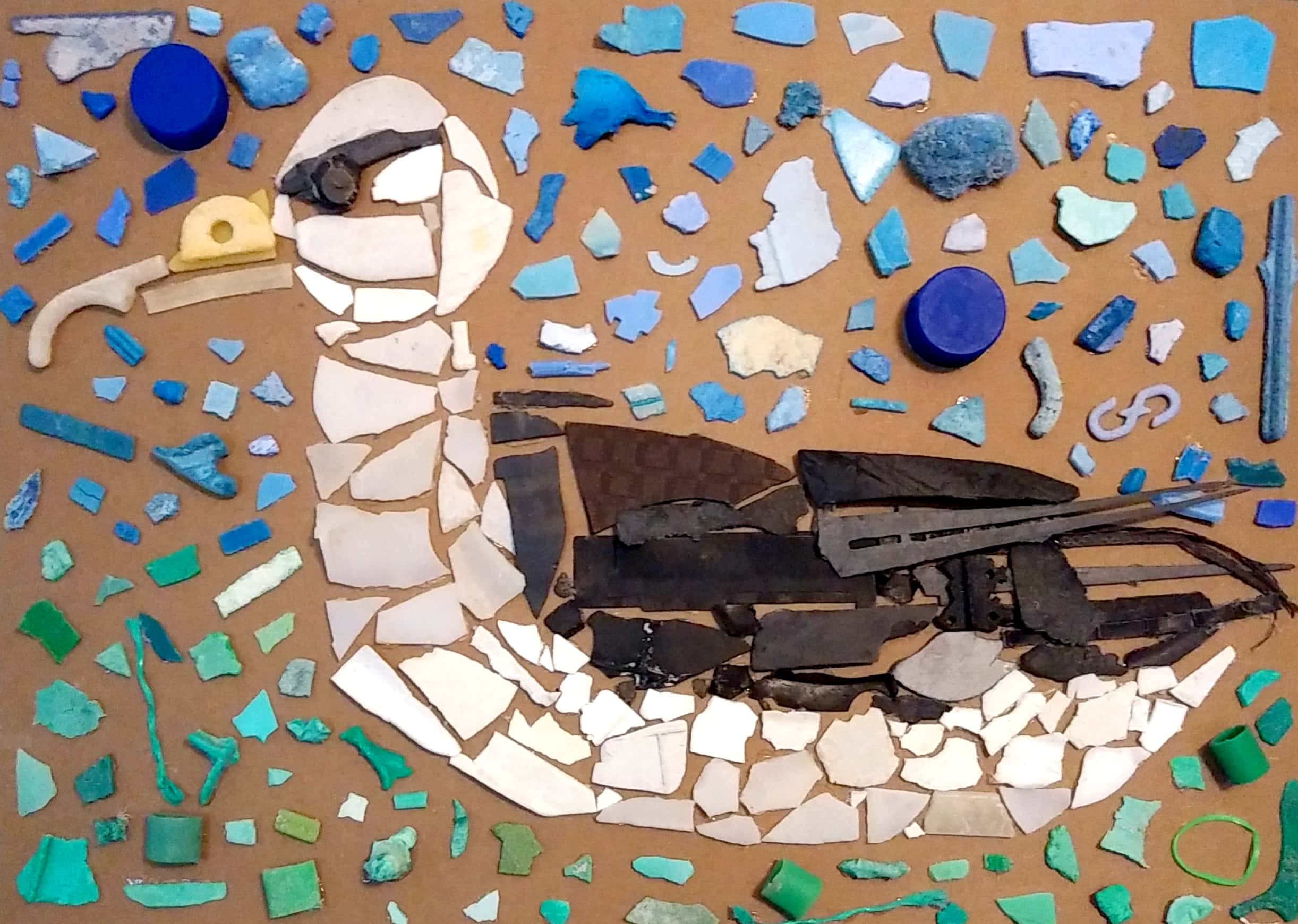 Jennifer's "Laysan Albatross – marine debris collage"
With thanks to Jennifer Urmston for information and photographs.
References:
Urmston, J. 2020. Wedge-tailed Shearwaters ('Ua'u kani) on O'ahu, Hawai'i, Seabird Conservation on an Urbanized Tropical Island. Story Map.
Urmston, J., Hyrenbach, K.D., Carstenn, S. & Swindle, K. 2020. Quantifying environmental and anthropogenic drivers of Wedge-tailed Shearwater fallout on a coastal highway on east Oahu. Pacific Seabird Group 47th Annual Meeting, Portland, Oregon, 12 - 15 February 2020. Book of Abstracts. p. 84.
John Cooper, ACAP Information Officer, 03 September 2020