By now regular readers of ACAP Latest News must know who Wisdom is, the famous 69-year old Laysan Albatross of Midway Atoll (see her ALN string).
The last post had the pair returning to their usual nest site on Midway's Sand Island in November, but no egg ensued and the birds departed (click here). This month they returned for a few days, raising hopes of an egg. However, news from the Friends of Midway Atoll National Wildlife Refuge seems to confirm the pair are taking a "gap year":
"Wisdom and her mate Akeakamai were lately observed sitting together on Thursday, January 16. Akeamakai was this time sitting tightly on a nest cup in the same spot as their 2018-2019 nest; which was a surprise and potentially a sign of a late egg. However, neither bird was observed during the following days, and no egg was revealed in the nest cup. The pair is certainly skipping a nesting year."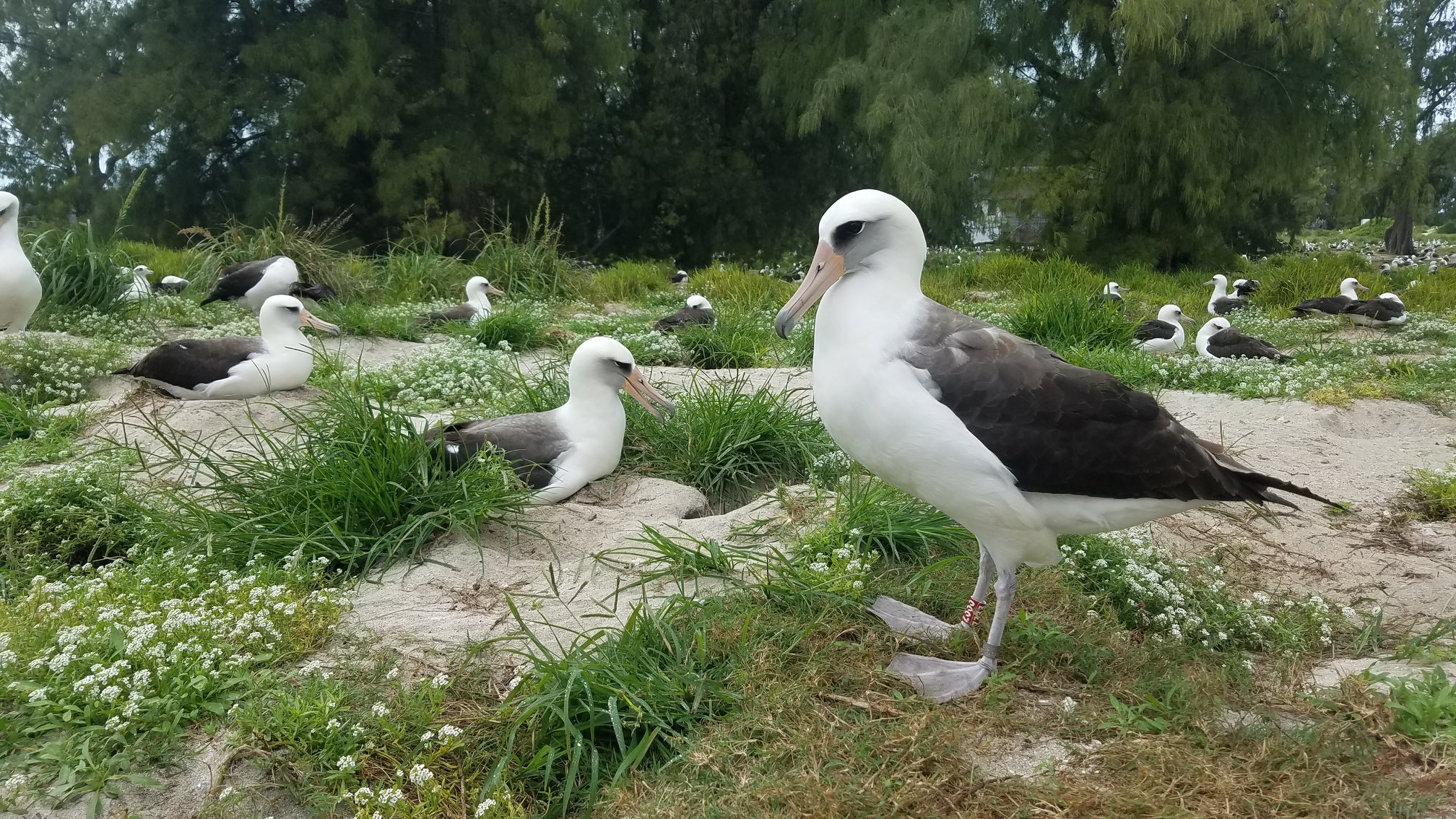 Wisdom (wearing red Z333) near her nest site on 13 January 2020, photograph by Theresa Geelhoed, Kupu Volunteer Crew Leader
Further news is that one of Wisdom's youngsters has been returning:
"Interestingly, Wisdom's chick from 2011 was that day walking a few feet away from the pair. Since Wisdom's offspring were first banded in 2011, this is the only chick that has been observed returning to Midway. It is important to note that Wisdom was able to rear this chick at a very late age, at least 59 years old. The "youngster," who has not been given a name but bears a red and white color band with the unique code of "N333" was first spotted at the same location in March 2018 but has not yet been observed on a nest. We know that albatrosses tend to return to their nesting ground to breed and nest. In the coming years, it will be interesting to witness the location chosen by Wisdom's chick to continue the legacy of the family".
ACAP's Information Officer (who also has a Z333 band) is already looking forward to the 2020/21 breeding season, when Wisdom will be joining him in the septuagenarian ranks. You are only as old as you feel!
You can read more about Wisdom's history - and the threats she and her conspecifics face - here.
John Cooper, ACAP Information Officer, 30 January 2020