UPDATE:
As of 13 November, Midway's Short-tailed Albatross pair is incubating a new egg.
*********************************************
On 23 October this year two globally Vulnerable Short-tailed Albatrosses Phoebastria albatrus were seen back on Midway Atoll in the North Pacific. The pair, named George and Geraldine, bred on Midway's Sand Island for the first time in the previous (2018/19) season.
"George, the male of the pair, a bird in adult plumage, has been visiting Midway Atoll since November 2006 (when known as "Lonesome George"). He hatched from the colony on Japan's Torishima in 2003 and was banded there as a chick. Geraldine, an assumed younger bird, is still in sub-adult plumage and is suspected to be an individual that was banded on Torishima in April 2008. She was first observed on Sand Island in early 2012. The two birds were first seen together on the island in late 2016" (click here). This first breeding attempt is considered to have be successful; the downy chick being banded in May (click here).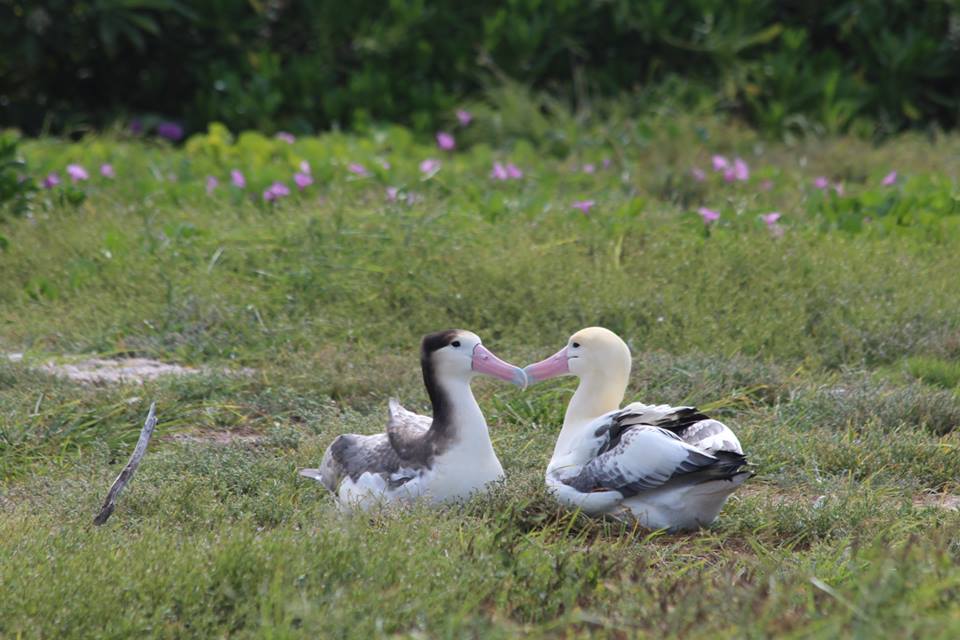 Geraldine (left) and George on Sand Island, Midway Atoll in 2018, photograph by Madalyn Riley
Watch a video clip by Joey Latsha of the male George ashore.
"Previously, a different pair of Short-tailed Albatrosses has bred successfully three times in four years on Midway's Eastern Island within the atoll, fledging several chicks, the last one in 2014" (click here).
Read more about the two Short-tailed Albatrosses previous activities on Midway here.
John Cooper, ACAP Information Officer, 07 November 2019