Applications are sought for project funding that will assist the Agreement on the Conservation of Albatrosses and Petrels (ACAP) meet its objective of achieving and maintaining a favourable conservation status for albatrosses and petrels. Total funding of approximately AUD 115 000 is available for allocation (click here).
Applications must be submitted on an ACAP Small Grants Application Form.
When assessing project applications, preference will be given to projects that address elements of the Advisory Committee Work Programme (see Annex 4, AC11 Report) and any research priorities identified by the AC Working Groups (see AC11 Doc 09 and AC11 Doc 10). Innovative proposals making a substantive contribution to the Agreement's objective will also be considered.
Applicants are encouraged to contact the relevant Working Group Convenors or the Advisory Committee Chair to discuss the development and relevance of their application to ensure it addresses the requirements of the AC Work Programme.
Applications close on 25 October 2019. Applications will only be accepted from ACAP Parties. Completed applications (in any of the three Agreement languages – English, French or Spanish) are to be submitted to relevant ACAP National Contact Points, who will then forward them to the ACAP Secretariat by the 25 October deadline.
Applicants will be advised of the outcome of their applications by 21 February 2020.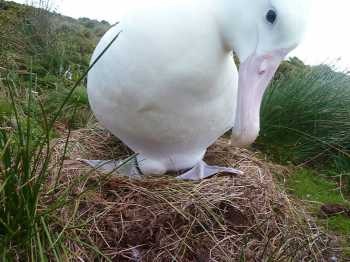 Incubating Tristan Albatross (Critically Endangered) on Inaccessible Island in 2012; photograph by Katrine Herian
ACAP Secretariat, 02 September 2019