This year a long-awaited attempt to eradicate Black Rats Rattus rattus and House Mice Mus musculus on Australia's Lord Howe Island took place, as reported in ACAP Latest News (click here)
Following an aerial bait drop coupled with ground baiting volunteers are now required to help mop up the last few rodents on Australia's World Heritage Island in an effort to give a more secure future for its populations of shearwaters and petrels, including the Flesh-footed Shearwater Ardenna carneipes (globally Near Threatened and a proposed candidate for ACAP listing).
"Volunteers will help recover one of the world's rarest insects while taking part in a program that will change the lives of critically endangered animals. The project reached the halfway point for ground-baiting operations in August 2019 and is now entering one of the most critical phases of the project – hunting down the few remaining individual rodents. The volunteer field officer will undertake pest and weed management and revegetation work. Volunteer field officers will join the ground-baiting crew servicing 18 900 external bait stations and 2200 monitoring devices over the settlement area of the island, replenishing bait, logging bait take and rodent sign."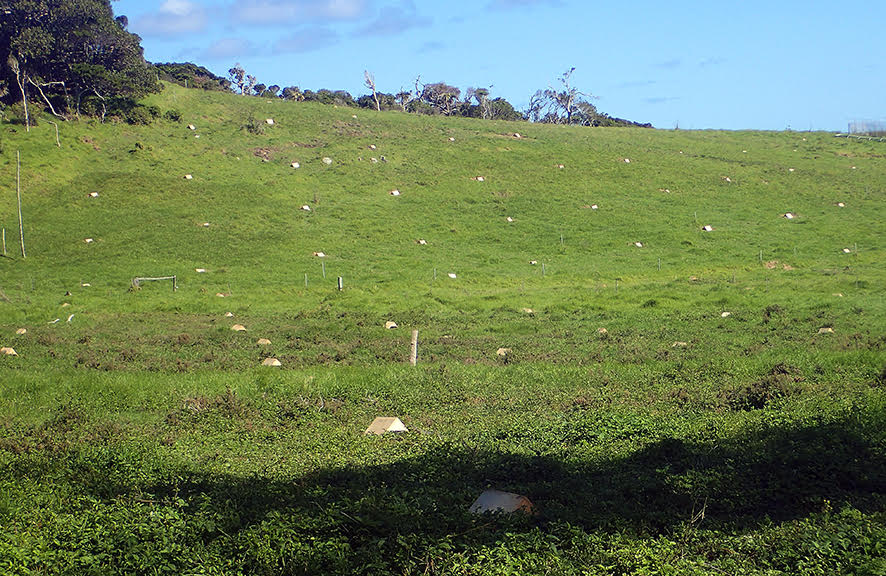 Serried ranks of roofed bait stations on Lord Howe pasture land, photograph by Ian Hutton
The starting date is stated as to be as soon as possible. For additional information regarding the project visit the Lord Howe Island Rodent Eradication Project.
Read conditions and requirements for the positions and how to apply here.
John Cooper, ACAP Information Officer 06 September 2019