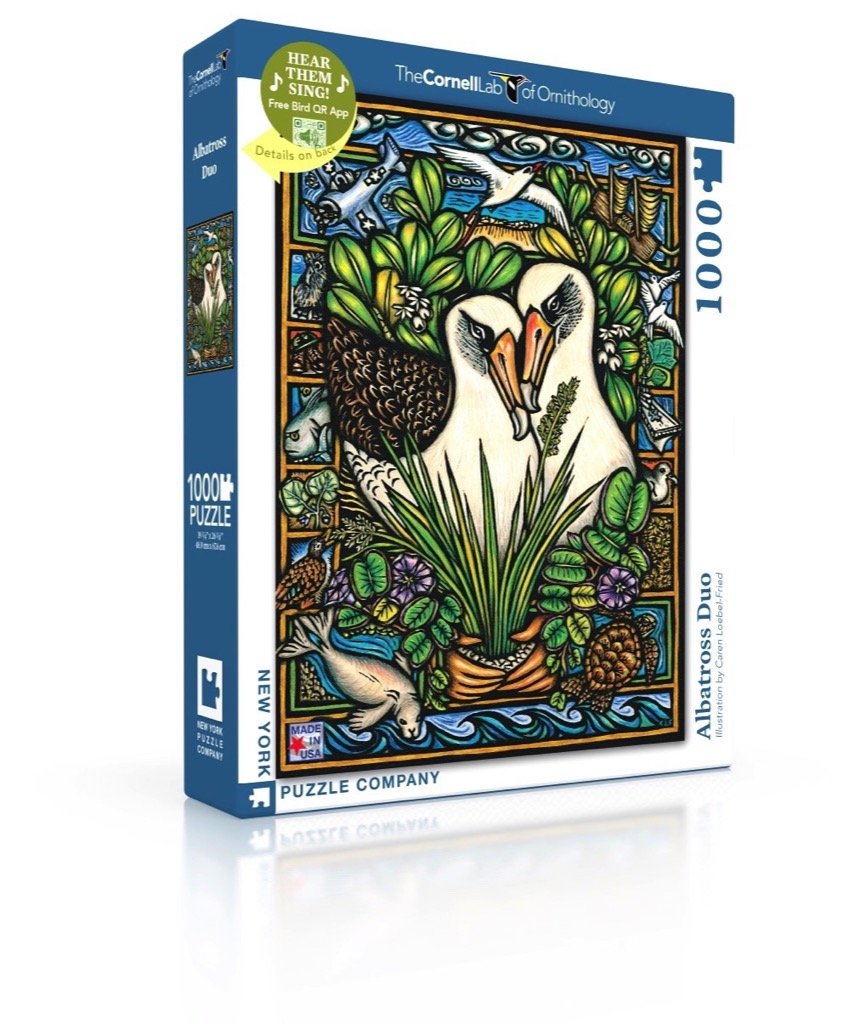 Caren Loebel-Fried, who lives on the 'big island' of Hawaii, is the author of A Perfect Day for an Albatross, a book about a Laysan Albatross for children, which has been reviewed by ACAP Latest News.
Caren has written recently to ACAP Latest News: "the Cornell Lab of Ornithology and the New York Puzzle Company have been producing bird puzzles for years, so I was excited when they approached me about creating puzzles from two of my albatross images. The puzzles include great information on the back of their boxes, helping spread knowledge about seabirds in a fun way."
Two different illustrations printed and hand-coloured from linoleum blocks carved by Caren have been used to make the puzzles. A pair of Laysan Albatrosses feature on the 'adult' 1000-piece puzzle entitled "Albatross Duo" (49 x 68 cm; US$ 19.95) which Caren describes "as challenging and fun". The original artwork was created by Caren for the US Fish and Wildlife Service to celebrate and support the Midway Atoll National Wildlife Refuge and the Battle of Midway National Memorial, and the deep Hawaiian roots throughout Papahanaumokuakea [Marine National Monument], the Northwestern Hawaiian Islands". A single bird appears on the 100-piece puzzle "Laysan Albatross Mini" (23 x 18 cm; US$ 9.95) taken from A Perfect Day for an Albatross. It is aimed at children with a recommended age of 5+ years.
Over the two decades or so ACAP's Information Officer has collected all sorts of items of albatross memorabilia and merchandise (think T-shirts, beanies, caps, pens, lapel pins and badges, coffee mugs, shopping bags, and even an unopened bottle of Tassie Pinot Noir that commemorates the First Meeting of the Parties to the Agreement, held in Hobart in November 2004. But he has never come across an albatross puzzle before. He wants one!
With thanks to Caren Loebel-Fried.
John Cooper, ACAP Information Officer, 27 August 2019