Barry Baker and Katrina Jensz (Latitude 42 Environmental Management Consultants, Kettering, Tasmania, Australia) have produced a final report on an aerial photographic survey of globally Vulnerable and Nationally Critical Salvin's Albatrosses breeding at the Bounty Islands that was undertaken in October 2018. Their report was presented to New Zealand's Department of Conservation at a meeting of its Conservation Services Programme (CSP) Technical Working Group on 31 May.
"In October 2018 we estimated the total count of nesting Salvin's albatrosses (Apparently Occupied Sites) in the Bounty Islands to be 60,419 (59,927— 60,911), based on raw counts. These counts have been adjusted downwards to account for the presence of 3,069 birds assessed as being the partners of incubating birds. The total raw count for all islands was 57,350 (95%CI 56,871 — 57,829) nesting Salvin's albatross pairs (Potential Occupied Sites)."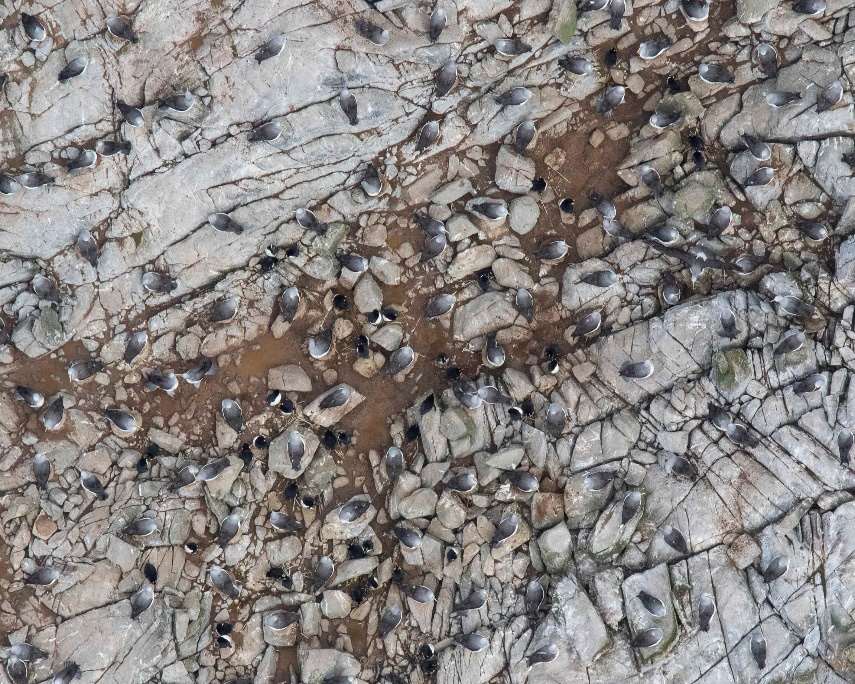 Salvin's Albatrosses from the air at the Bounty Islands, photograph by Barry Baker from Baker & Jensz (2019)
Click here to access a report on ground-based research on Salvin's Albatrosses at the Bounty Islands conducted in the same month last year.
The Conservation Services Programme monitors the impact of commercial fishing on protected species, studies species populations and looks at ways to limit bycatch. The programme is funded by levies from commercial fishers.
Reference:
Baker, G.B. & Jensz, K. 2019. Aerial survey of Salvin's albatross at the Bounty Islands. Final Report prepared for Department of Conservation Contract POP2017-03. [Kettering]: Latitude 42 Environmental Consultants. 11 pp.
John Cooper, ACAP Information Officer, 02 July 2019