A total of 51 eggs (a record number, well up from the usual 30 or so) was laid by the globally Endangered and nationally Naturally Uncommon Northern Royal Albatross Diomedea sanfordi population breeding on the mainland at Taiaroa Head on New Zealand's South Island this (2018/19) season. The high total is thought due to the large number of birds that failed in the previous season returning after a year, instead of missing the usual year if they had bred successfully. In the 2017/18 season 33 eggs were laid but only 13 chicks fledged (39.4%) following a large number of embryo deaths in what was the hottest summer on record. In 2016/17 23 birds fledged from 36 eggs laid (63.9%); equivalent figures for 2015/16 were 26/35 (74.3%).
Thirty-four of the 51 eggs hatched (66.7%). Sophie Barker, Marketing Manager, Otago Peninsula Trust writes to ACAP Latest News: "we think one of the fertility issues might have been a becalming period (no wind) when the albatross should have been mating, as there is a short period when the egg is being formed for mating to be successful."
During hot, windless conditions fly strike has also been a problem that can kill hatching chicks: "issues with heat include a very nasty fly that lays live maggots (came over late last century from Australia) and with very little wind caused problems". Insecticides have been used to address this. There are currently 29 surviving chicks in the colony (DNA testing of egg shell remnants has shown there are 19 female and 10 male chicks), all described to ALN by the Royal Albatross Centre as being "healthy". If all 29 chicks fledge successfully (giving a breeding success of 56.9%) this will also be a record; the previous highest number of fledglings in a previous season is 27.
An ongoing concern in the colony is rising temperatures causing increased levels of heat stress among the birds. The mist irrigation system to cool down the birds has been improved as a consequence, with hand spraying at nests also being utilized during heat waves. Predator control is continuing as in previous years, with an aspiration to protect the colony from feral cats and stoats with a pest-proof fence. In the meantime 14 Stoats had been trapped within the colony by mid-March this year.
Once more the 24-hour live-streaming "Royalcam" has been set up facing an occupied nest. This year's camera chick is a female. Watch her being fed and follow her growth to fledging here.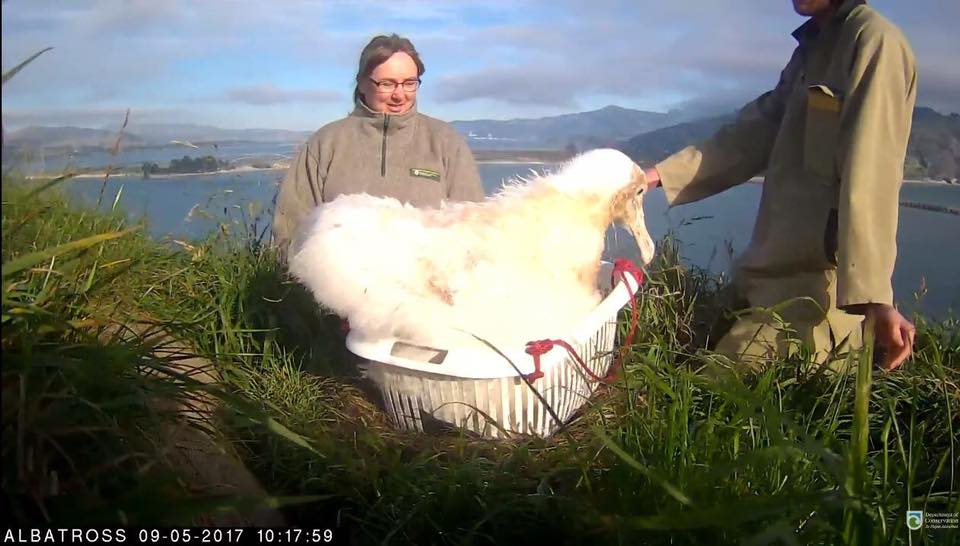 More hands-on management: the Royalcam chick from a previous season gets weighed in a laundry basket in front of the camera
Photograph from the Royal Albatross Centre
An interesting biological snippet comes from the Royal Albatross Centre's Facebook page: "It was so nice to see another albatross parent feeding our Royalcam chick the other day. This is unusual behaviour but has been seen in the past." Another piece of news describes a pair who abandoned their egg very early on leading to it being placed in an incubator to keep it alive. The egg was then given to a foster pair which had an egg deemed infertile following candling, resulting in the chick "doing well at the foster nest". Hands-on management all round!
With thanks to Sophie Barker, Marketing Manager, Otago Peninsula Trust for information.
John Cooper, ACAP Information Officer, 08 April 2019