Over 25 January – 2 February this year an island-based research team of the RSPB's Gough Island Restoration Programme undertook the annual whose-island count of incubating Critically Endangered Tristan Albatrosses Diomedea dabbenena (read more on team member Chris Jones' blog on the count).
This season the count is up from the total of 1453 breeding pairs counted last year - although year-to-year fluctuations are to be expected in a biennially-breeding species. Tristan Albatrosses on Gough Island are at risk to attacks on their downy chicks by introduced House Mice Mus musculus, resulting in a very low breeding success every year, insufficient to maintain the population. This should change if the planned poison bait drop set for next year succeeds.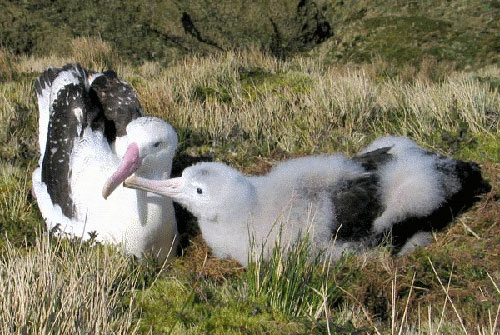 A Tristan Albatross and its chick on Gough Island, photograph by Andrea Angel/Ross Wanless
The Gough Island Restoration Programme is being carried out by the RSPB in partnership with Tristan da Cunha, BirdLife South Africa, the Department of Environmental Affairs in South Africa and Island Conservation. The programme is part-funded by the RSPB, the UK Government, the National Fish and Wildlife Foundation and other generous individuals and organisations.
John Cooper, ACAP Information Officer, 16 March 2019
On 31 January 2007 I arrived at Waterfall Camp below the island's highest peak for that year's Tristan Albatross count. A significant day as it fell on my 60th birthday (I hiked with a celebratory fruit cake) and it was also my last day of academic employment. Twelve years on and I am still enjoying retirement! JCII