ACAP Latest News has previously posted on plans to provide fencing to keep out introduced mammals from entering globally Vulnerable Pink-footed Shearwater Ardenna creatopus (PFSH) breeding sites on Chile's Robinson Crusoe Island, part of the Juan Fernández Archipelago.
News of recent progress comes from Verónica López of Oikonos Ecosystem Knowledge's Pink-footed Shearwater Team who writes to ALN:
"With support from NFWF [National Fish and Wildlife Foundation] and partners, Oikonos is installing an upgraded fence around one of the largest PFSH colonies in the Juan Fernández Archipelago to exclude cows, rabbits, cats, and dogs. The colony, called Piedra Agujereada (which means "rocks full of holes"!), hosts an estimated 1,000-1,500 pairs, and currently has a cattle fence around it to prevent trampling of shearwater burrows.
We hope this effort will encourage fence solutions in other remote colonies with limited infrastructure similar to the Juan Fernández Islands: (1) no car or helicopter access (only by foot or mules), (2) no on-site water source, (3) no electricity, (4) severe seasonal weather conditions (routinely exposed to hurricane-force winds), and (5) a cost investment acceptable to the island residents. To explore affordability, LandCare (New Zealand) also joined the effort and completed a cost-benefit analysis for protecting breeding pairs in this colony.
Mike Bell, Wildlife Management International, is designing the fence, bringing his expertise from the remote Chatham Islands and other projects in New Zealand. Mike recently visited Robinson Crusoe Island with the Oikonos team to assess the site and share the value of conservation fences with the National Park agency CONAF. Lindsay Young at Pacific Rim Conservation has also been advising the project on design and material cost options.
PFSH chicks have recently hatched and we have begun pre-fence monitoring that includes continuing the breeding time-series (begun in 2015 at Piedra Agujereada) and documenting predator encounters using cameras and carcass transects. After just a few days of camera monitoring, we have detected not only many rabbits, but also more cats and dogs at the site than expected. This fence will be timely!"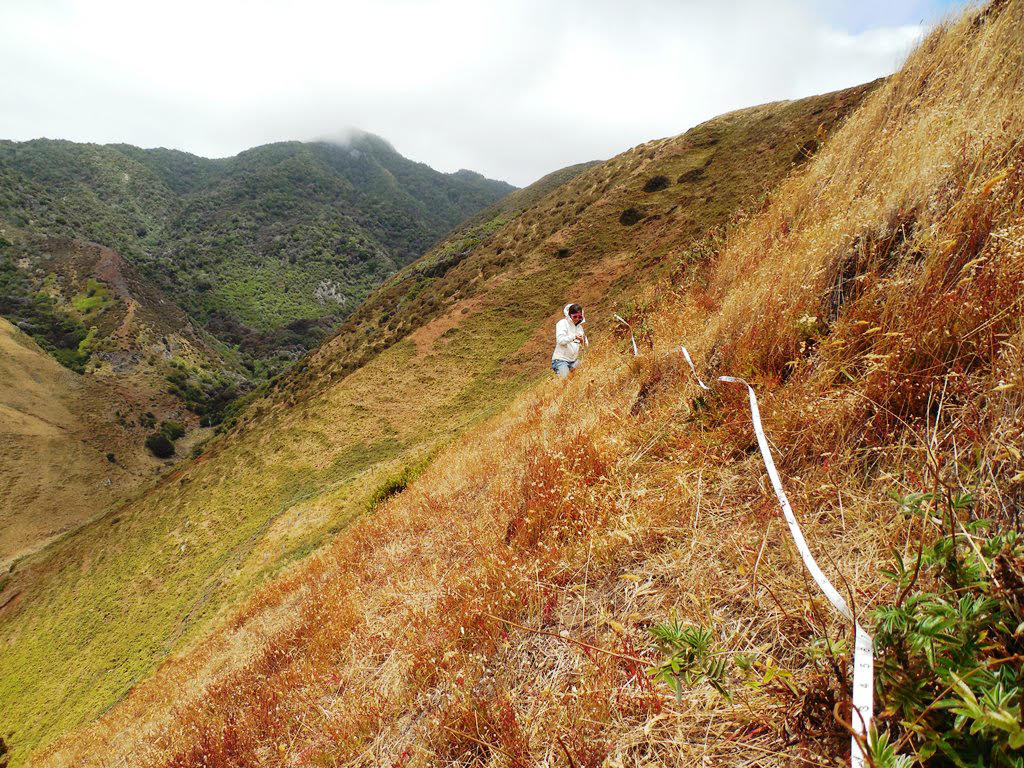 Planned fence line at the Piedra Agujereada colony on Robinson Crusoe Island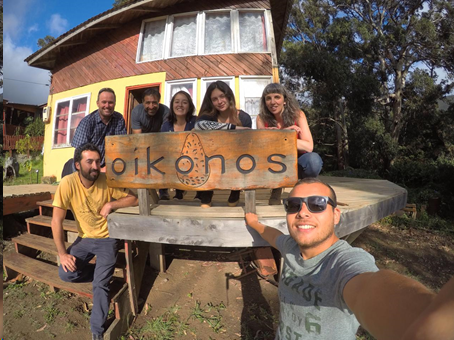 Ussie time! Mike Bell of Wildlife Management International and the Juan Fernández Islands Pink-footed Shearwater crew in January
ALN will endeavour to make further postings on the fencing plan for ACAP's most recently listed species.
With thanks to Verónica López.
John Cooper, ACAP Information Officer, 14 March 2019