The American Bird Conservancy (ABC) is soliciting pre-proposals for projects that will provide demonstrable benefits to globally threatened or Data Deficient seabirds on the IUCN Red List by restoring breeding colonies within the Americas (defined as North, Central and South America, including Hawaiian and Caribbean Islands). A total of USD 100 000 is available for a desired four projects.
The ABC has provided a "target" list of 22 threatened seabird species eligible for funding. Seventeen of these are procellariiforms; the only ACAP-listed species is the globally Critically Endangered Waved Albatross Phoebastria irrorata. Notably, the list includes seven species of storm petrels, most categorized Data Deficient. The ACAP-listed and globally Vulnerable Pink-footed Shearwater Ardenna creatopus is not listed as a candidate species for funding.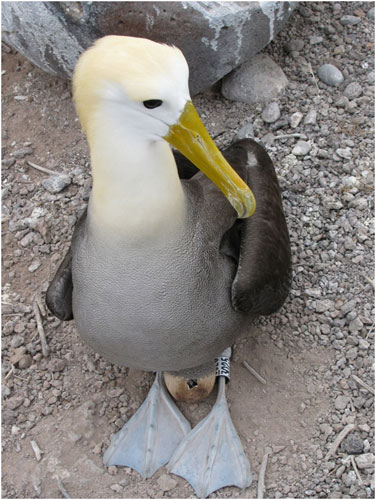 Waved Albatross over its hatching egg, photograph by Kate Huyvaert
Pre-proposals must be submitted online in English or Spanish by 15 March. Full proposals will be called for on 22 March.
Read more here.
John Cooper, ACAP Information Officer, 22 February 2019