In 2015 introduced House Mice on the USA's Midway Atoll in the North Pacific were first reported attacking and sometimes killing breeding Laysan Phoebastria immutabilis and Black-footed P. nigripes Albatrosses (click here). Since then planning has been underway to deal with the problem, including releasing a draft environmental assessment to protect the seabirds of Midway Atoll's Sand Island from mice for public comment. (click here for more ACAP Latest News postings on the subject).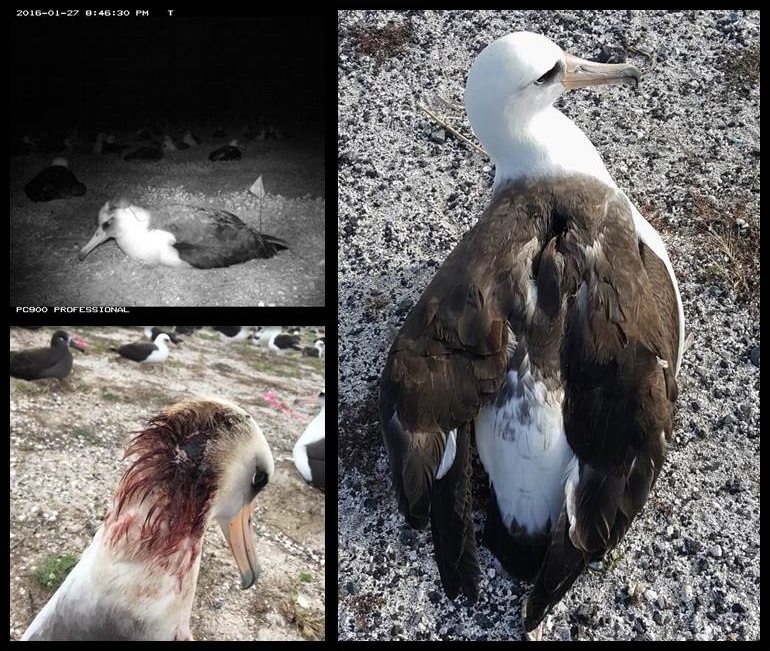 Midway Laysan Albatosses attacked and wounded by introduced House Mice in 2016
The Final Environmental Assessment, Finding of No Significant Impact, associated documents and permits and project details are now available (click here).
"In order to protect this globally important colony of seabirds, the U.S. Fish and Wildlife Service has finalized the Midway Seabird Protection Plan to remove the predatory invasive house mouse from Midway Atoll. All public comments and information received during the public comment period were considered in the development of the environmental assessment. [The] environmental assessment was prepared in consultation with other agencies, private organizations, and the public. After circulating the report for public and agency comment, the Service has determined that the proposed project [consisting of an island-wide aerial distribution by helicopter of bait pellets containing the rodenticide Brodicafoum] would not have a significant adverse effect on the quality of the environment and has prepared a Finding of No Significant Impact."
ACAP Latest News will report on activities towards eradicating Midway's introduced mice as information becomes available.
John Cooper, ACAP Information Officer, 27 February 2019