Six globally Endangered and Nationally Critical Antipodean Albatrosses Diomedea antipodensis reported killed as bycatch by a New Zealand longlining vessel in the Bay of Plenty region in December and January have engendered concern among both governmental and NGO circles within the country. One of the birds was of the Gibson's subspecies D. a. gibsoni.
The same fishing vessel also caught a Buller's Albatross Thalassarche bulleri (Near Threatened) and two globally and nationally Vulnerable Black Petrels Procellaria parkinsoni. The deaths were recorded by a Fisheries New Zealand observer aboard the vessel.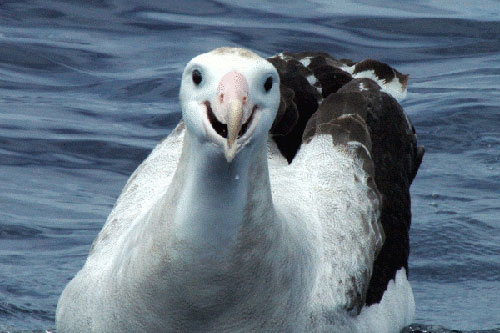 Antipodean Albatross at sea, photograph by Mike Double
New Zealand Conservation Minister Hon. Eugenie Sage, MP is reported as commenting on the deaths: "existing measures to reduce the risk to seabirds include weighting lines so they sink faster, setting them at night, and using bird scaring lines. Using all three together is international best practice but is obviously not enough …". She is also reported as saying "the industry could use innovations such as hook-shielding devices to cover the point and barb of the hook when longlines were set so seabirds cannot be hooked and drowned". The Minister has called for the fishing industry to show leadership over the issue.
Read more here.
John Cooper, ACAP Information Officer, 26 February 2019