The world's largest breeding population of globally Vulnerable Yelkouan Shearwaters Puffinus yelkouan on Italy's Tavolara Island is thought to be free of introduced Black Rats Rattus rattus following two helicopter-borne poison bait drops directed at the rats and also at House Mice Mus musculus during October and November 2017 (click here). Ground-based baiting was undertaken in inhabited areas. Tavolara lies within the Punta Coda Cavallo Marine Protected Area off the north-east coast of Sardinia, is about 1 x 3 km in size (602 ha) and rises to 565 m. It supports a small human population and attracts tourists.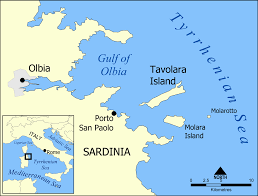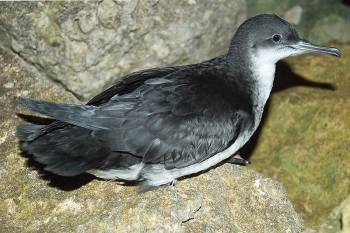 Yelkouan Shearwater, photograph by Matthew Borg Cardona
Tavolara Island is thought to support of the order of 10 000 (9991 to 13 424) breeding pairs of the Mediterranean-endemic Yelkouan Shearwater, estimated to represent between one thirds and two-thirds of the known world breeding population. A monitoring programme on the island from 2006 to 2011 found that all examined shearwater nests had been depredated by introduced rats, with the only nests remaining safe being located on sheer cliffs inaccessible to rodents (read more here).
"Now that invasive rats have been removed[*] from the island, researchers expect a 5,000-8,000 increase in the number of fledged juveniles each year. This is likely greater than the number of juveniles currently fledged each year by the global population of Yelkouan Shearwaters.
Although Yelkouan Shearwaters were considered to be the main focus of this restoration efforts, the project will also benefit other species that could potentially breed on the island including Mediterranean Storm Petrels Hydrobates pelagicus melitensis and Scopoli's Shearwaters Calonectris diomedea."
*One more year is usually required without signs of rodents before Tavolara could be declared definitely free of rats and mice.
Read more here and view a short video. Read an earlier ALN posting on Tavolara and its rats here.
The rodent eradication exercise was carried out with the support of Città di Olbia, Life Puffinus Tavolara, Natura 2000, Ministero Dell'Ambiente E Della Tutela Del Terrirorio E Del Mare, Area Marina Protetta Tavolara Punta Coda Cavallo, Nature Environment Management Operators (NEMO), and Island Conservation.
Previously, nearby 340-ha Molara Island within the Punta Coda Cavallo Marine Protected Area was cleared of its rats in 2008 leading to improved breeding by Yelkouan Shearwaters, although rats were found on the island again in 2010, perhaps by deliberate introduction (click here).
John Cooper, ACAP Information Officer 17 December 2018