On 7 November 2017, west of Chile in the Pacific Ocean at 30° 20'S, 91° 00'W a great albatross carrying metal and white plastic (engraved 430, right leg) bands was photographed from the yacht H2O at sea by Antoine Chabrolle of France's Muséum National d'Histoire Naturelle in Paris. The general region visited was approximately 250 km west of Isla Alejandro Selkirk and 300 km south of Isla de Robinson Crusoe. Following an on-line enquiry by Yan Ropert-Coudert, Secretary of the Expert Group on Birds and Marine Mammals of the Scientific Committee on Antarctic Research (SCAR-EGBAMM), the bird was found to be a globally Endangered (and Nationally Critical) Antipodean Albatross Diomedea antipodensis (of the nominate subspecies antipodensis) from New Zealand's Antipodes Island.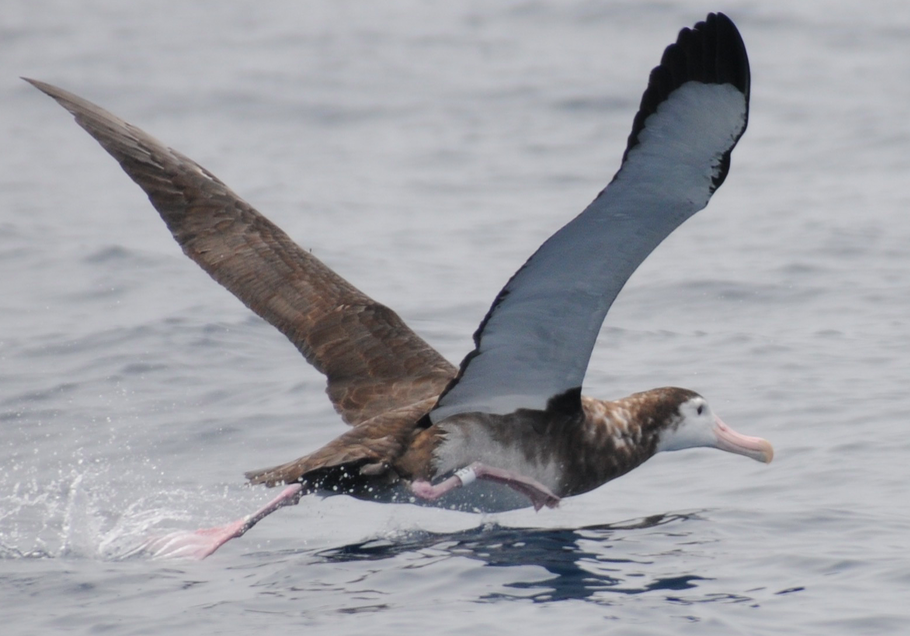 The Antipodean Albatross takes to the air, revealing its plastic colour and metal bands, photograph by Antoine Chabrolle
Well-known New Zealand albatross researchers, Kath Walker and Graeme Elliott have reported to SCAR-EGBAMM that the bird when photographed was a 17-year old female which was banded (metal band R55568) as a chick. The bird was about to fledge from a nest near the edge of their long-term Antipodes Island study area on 21 December 2000.
Kath Walker further reports: "she returned to the island to court in the summers of 2004 and 2007 but we had not seen her since, probably because she found a mate and started nesting outside our study area, given the location of her natal nest. The location at sea you spotted her is not unexpected as the birds we track wearing loggers use this area, but it's great to get an actual GPS position, and a photograph, and to know that she [was] actually still alive a decade after we last saw her".
SCAR-EGBAMM (and its precursors within the Biological Investigations of Marine Systems and Stocks [BIOMASS) and SCAR from the1980s) has and continues to serve a useful purpose in helping identify sightings of colour-banded seabirds in the Southern Ocean by tracking down the original banders.
With thanks to Antoine Chabrolle, Louise Chilvers, Graeme Elliott, Jérôme Fournier, Yan Ropert-Coudert and Kath Walker for their roles in identifying the photographed albatross and supplying information.
References:
Cooper, J, & Oatley, T.B. 1985. A first inventory of colour-banding projects in the Subantarctic and Antarctic, 1965-1984. Cormorant 13: 43-54.
Walker, K.P. & Elliott, G. 2006. At-sea distribution of Gibson's and Antipodean wandering albatrosses, and relationships with longline fisheries. Notornis 53: 265-290.
John Cooper, ACAP Information Officer, 06 December 2018, updated 07 December 2018