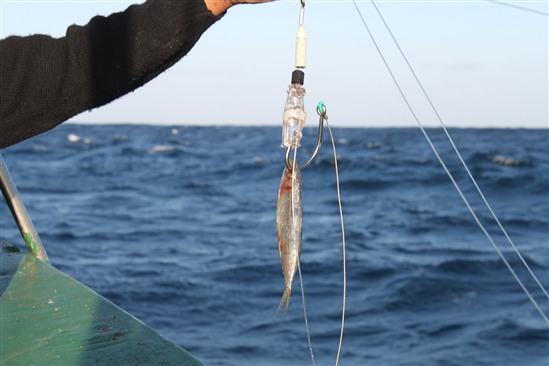 A baited Hookpod ready for release, photograph by Fabiano Pepes
The spring-loaded polycarbonate Hookpod is a hook-shielding device that is attached to the branch lines of a pelagic longline, encapsulating the barbed end of the baited hook. Once it reaches a depth of at least 10 m a pressure-activated mechanism in the pod causes it to open, releasing the hook and exposing its barb.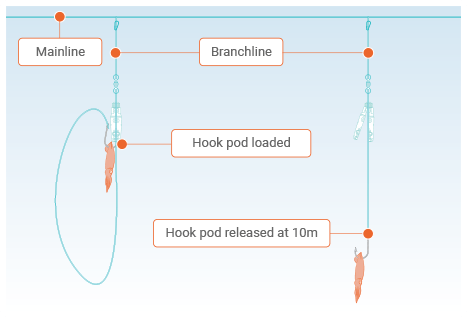 Illustration from Albatross Task Force - Brazil
Trials conducted in Australia, Brazil and South Africa, as published in the journal Animal Conservation last year, have shown that the Hookpod can reduce seabird bycatch by up to 95%, reducing seabird bycatch to rates of 0.01 birds/1000 hooks and without affecting the catch of target fish species. However, it is thought that the seabird catch rate can be reduced even further if the Hookpod is released at a greater depth, especially in areas with high densities of medium-sized diving petrels (such as the globally Vulnerable White-chinned Petrels Procellaria aequinoctialis) capable of retrieving baits from depths below 10 m. As a consequence, trials of a new Hookpod design that releases hooks at a 20-m depth are planned to commence in the Brazilian pelagic longline fishery this month, continuing for a year.
It is intended that four Brazilian pelagic longliners fitted with the new Hookpods will be compared to vessels from the same fleet, using standard gear to fish in the same area and season.
"This will involve a huge coordinated effort of dedicated [Albatross Task Force] instructors and Projeto Albatroz observers, our strategic partner in Brazil, gathering data onboard vessels with Hookpods as well as standard vessels, simultaneously" (click here).
The Brazilian trials have received support through ACAP's Small Grant scheme this year; following the Agreement adding the Hookpod to its list of best-practice measures for mitigating seabird bycatch in pelagic longline fisheries.
Information from Dimas Gianuca, Albatross Task Force team leader in Brazil.
Read more about Hookpods here and here.
Reference:
Sullivan, B.J., Kibel, B., Kibel, P., Yates, O., Potts, J.M., Ingham, B., Domingo, A., Gianuca, D., Jiménez, S., Lebepe, B., Maree, B.A., Neves, T., Peppes, F., Rasehlomi, T., Silva-Costa, A. & Wanless, R.M. 2017. At-sea trialling of the Hookpod: a 'one-stop' mitigation solution for seabird bycatch in pelagic longline fisheries. Animal Conservation DOI: 10.1111/acv.12388.
John Cooper, ACAP Information Officer, 14 November 2018