Aimee van Tatenhove (College of Agriculture and Life Sciences, Cornell University, Ithaca, New York, USA) and colleagues have published online in the open-access journal Marine Ornithology on colony attendance in globally Near Threatened Streaked Shearwaters Calonectris leucomelas.
The paper's abstract follows:
"Many species of Procellaridae [sic] are nocturnal on their breeding grounds, exhibiting reduced activity during fuller moonlight, perhaps to avoid predation by predators that use the full moon to hunt after sunset. Among these nocturnal species, Streaked Shearwaters Calonectris leucomelas have high wing loading and have difficulty taking off—especially with unfavorable wind conditions—thus potentially exacerbating moonlight avoidance. Effects of moonlight and wind conditions on the colony activity of this species, however, is poorly understood. We investigated the phenomenon by counting the departure and arrival of birds, and measuring ambient light intensity, local wind speed, and local wind direction at a breeding colony of Streaked Shearwaters on Awashima Island, Japan. Moon phase and ambient light had no significant effect on the frequency of arrivals or departures. Frequency of departures decreased significantly with increasing wind speed, but no effect was seen on arrivals, and wind direction had no effect on arrivals or departures. Our results indicate that: (1) wind speed may play an important role in Streaked Shearwater takeoff from the colony, and (2) moonlight avoidance is a plastic trait that may diminish in large-bodied shearwaters when few diurnal aerial predators are present."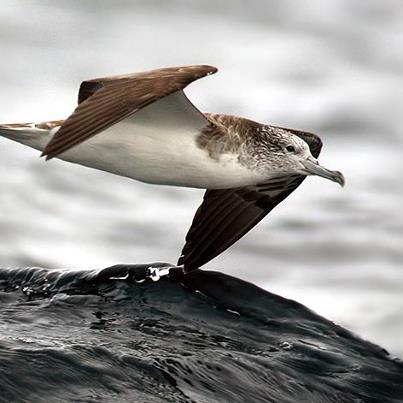 Streaked Shearwater
Reference:
Van Tatenhove, A., Fayet, A., Watanuki, Y., Yoda, K. & Shoji, A. 2018. Streaked Shearwater Calonectris leucomelas moonlight avoidance in response to low aerial predation pressure, and effects of wind speed and direction on colony attendance. Marine Ornithology 46: 177-185.
John Cooper, ACAP Information Officer, 31 October 2018