Through the South African National Antarctic Programme (SANAP), the Marine Apex Predator Research Unit (MAPRU), Coastal and Marine Research Institute, Nelson Mandela University, in collaboration with the FitzPatrick Institute of African Ornithology, University of Cape Town, is offering a candidate with a minimum of a BSc Honours an opportunity to spend a year on South Africa's sub-Antarctic Marion Island collecting field data on seabirds for academic purposes.
The post falls within the project 'Small Procellariiformes as Indicators of Ecosystem Changes and Plastic Pollution' led by Dr. Maëlle Connan (Nelson Mandela University) and Prof. Peter Ryan (University of Cape Town). The project intends to use small procellariiforms breeding on Marion and Prince Edward Islands, the Tristan da Cunha-Gough Archipelago and possibly Antarctica as indicators of the health and status of the Southern Ocean ecosystem. One aspect of the project focuses on the trophic ecology of these species while the other uses the birds as biological samplers to investigate the extent and temporal trends of plastic pollution in the Southern Ocean.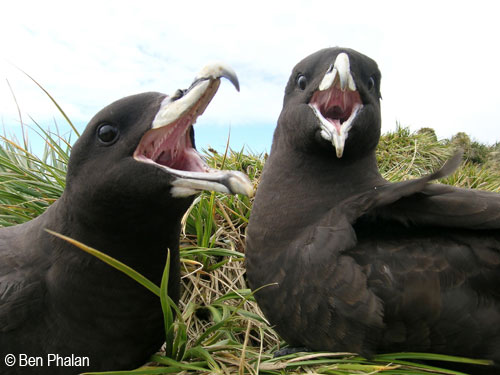 A Whie-chinned Petrel pair duets, photograph by Ben Phalan
The Prince Edward Islands are thought to house 12 burrow-breeding species of birds (including ACAP-listed and globally Near Threatened Grey Procellaria cinerea and globally Vulnerable White-chinned P. aequinoctialis Petrels) and the work will first entail prospecting to identify the breeding areas, which are still unknown for some species. This will require extensive walking over rough terrain under demanding environmental conditions. Dietary data and a wide range of samples will be collected from seabirds to study their trophic ecology and the current extent of pollution. The successful applicant will also contribute towards on-going long-term seabird monitoring, involving penguin, giant petrel and albatross species.
South African applicants will receive priority. Preference will be given to previously disadvantaged individuals who are particularly encouraged to apply for this contract position. Applications to This email address is being protected from spambots. You need JavaScript enabled to view it. by 15 November 2018.
Read more details here.
John Cooper, ACAP Information Officer, 25 October 2018