At the beginning of December the ACAP Secretariat sees a change when Christine Bogle takes over from Marco Favero as the Agreement's Executive Secretary, following a recruitment process that commenced in March this year. Christine will become ACAP's third Executive Secretary, after Marco who in February 2016 took over from Warren Papworth, who served for six years in the role.
Christine Bogle, a New Zealander, has a BA (Hons, First Class) in English and MA (Hons, First Class) in French from Victoria University of Wellington earned over 1971 to 1976, where she is currently completing a PhD in Political Science in the School of History, Philosophy, Political Science and International Relations commenced in 2014. Previously, she worked for over 30 years as a diplomat with the New Zealand Ministry of Foreign Affairs and Trade (MFAT). She has served in five overseas posts: Peru, Italy, Spain, Tonga and Mexico, the last three as Head of Mission (Ambassador/High Commissioner). During her career with MFAT she also spent several years working on multilateral issues, including two stints in the Ministry's Environment Division, the first time as a founding member of the division and the second time as its Acting Director. During that time she became acquainted with the Albatross and Petrel Agreement and developed a strong interest in its work. During the course of her university education and diplomatic career Christine has become proficient in both French and Spanish; she will thus be able to converse and communicate with Parties to ACAP and meeting delegates in all three of the Agreement's official languages.
Christine made her first visit from New Zealand to the ACAP Secretariat in Hobart over 8-11 October. The current Executive Secretary Marco Favero reports to ACAP Latest News:
"These were hectic working days. My replacement was given a general overview about the work of the Secretariat and was introduced to key personnel in the Department of Foreign Affairs in Tasmania (DFAT Tasmania), Department of State Growth Tasmania (in particular Antarctic Tasmania), and with Jonathon Barrington of the Australian Antarctic Division, who is Australia's ACAP National Contact Point and also a member of ACAP's Advisory Committee. Jonathan took the opportunity to brief Christine on the implementation of the ACAP Headquarters Agreement with the Tasmanian Government."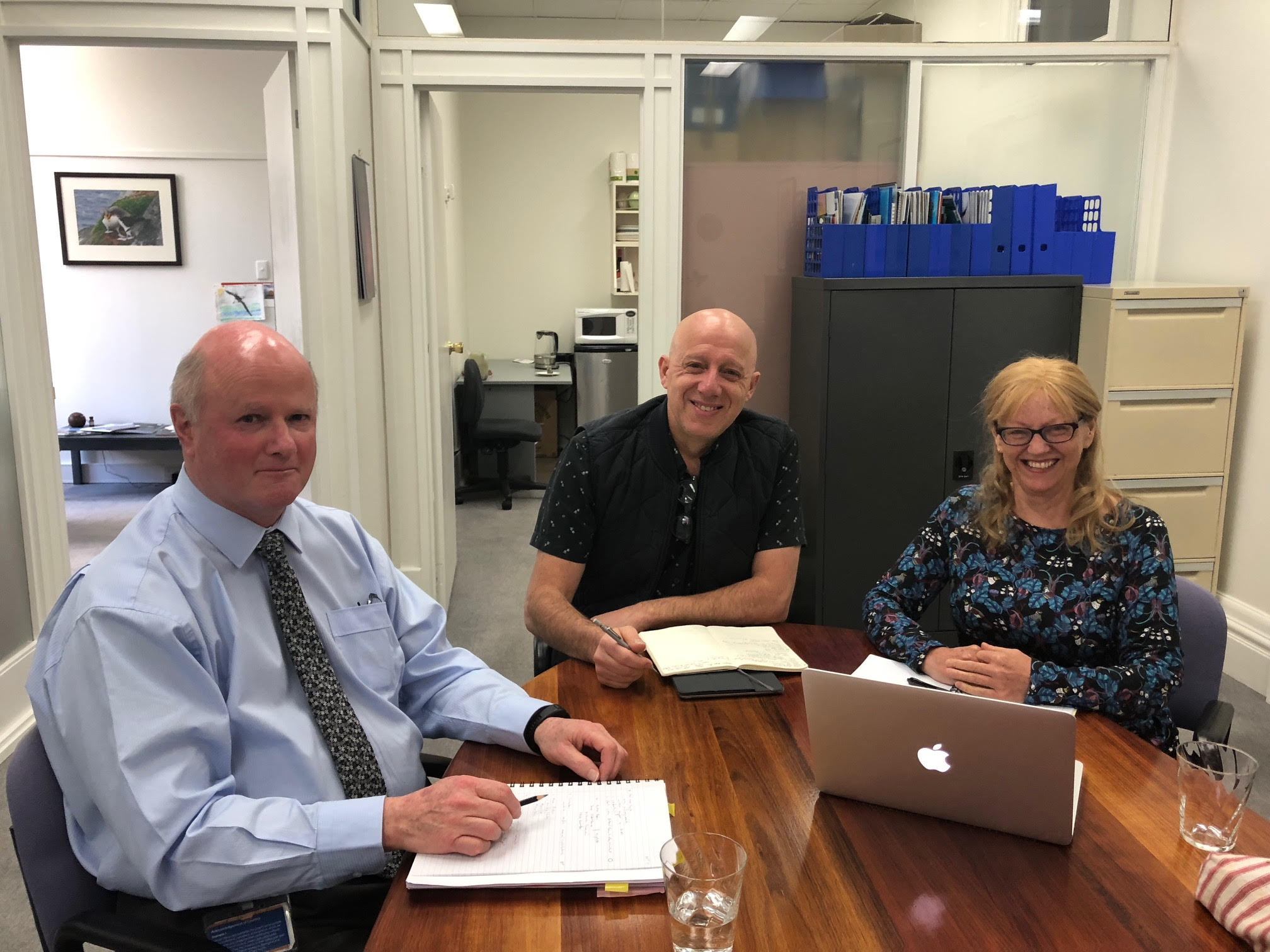 Getting to know you: Jonathan Barrington, Marco Favero and Christine Bogle confer in the ACAP Secretariat's offices in Hobart
Christine Bogle will return to Hobart on 24 November for a hand-over week and will take charge of the Secretariat on 1 December for an initial four-year period, renewable for a further four-year term. She writes "I'm looking forward to taking up the reins from 1 December and carrying on the good work of my predecessors as Executive Secretary"
ACAP will hold the Eleventh Meeting of its Advisory Committee and meetings of two of its working groups in Florianópolis, Brazil in May next year. This will afford the new Executive Secretary the opportunity to meet and work with delegates and working group members expected to be attending from all 13 Parties to the Agreement, as well as from a number of Range States and international organizations.
Marco Favero will travel home to Argentina straight after handing over to Christine Bogle. He will resume his work as a Principal Investigator with the National Research Council of Argentina (CONICET). Marco will leave with ACAP's best wishes and grateful thanks for his three years of service to the Agreement's Secretariat and another nine years as Advisory Committee Chair.
John Cooper, ACAP Information Officer, 17 October 2018