Critically Endangered Tristan Albatrosses Diomedea dabbenena breeding on World Heritage Gough Island in the South Atlantic are at great risk of extinction due in part to introduced House Mice Mus musculus attacking and killing their chicks in the hours of darkness during winter months – as has been regularly reported in ACAP Latest News (watch a video on mouse attacks).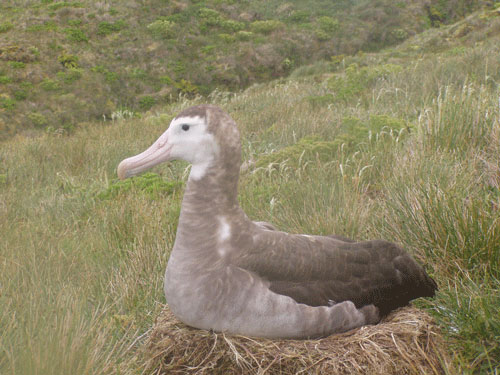 Incubating female Tristan Albatross on Gough Island, photograph by John Cooper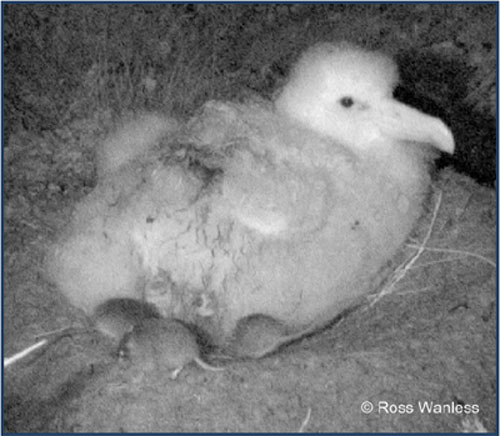 Mice attack a Tristan Albatross downy chick at night; it died soon afterwards. Photograph by Ross Wanless
In September this year the island-wide annual count of all albatross chicks which had survived the austral winter was once more undertaken by a Gough Island Restoration Programme team from the UK's Royal Society for the Protection of Birds (RSPB). The count followed a count of incubating birds made in January, allowing an estimate of overall breeding success to be made.
Of 1453 nests with eggs counted at the beginning of the year only 309 chicks were found to have survived until late September. Breeding success so far is thus estimated at only 21%. However, since carcasses of large chicks are still being found on the island breeding success will probably drop even lower. Modelling research has shown that the consistently low breeding success figures of the last decade are insufficient to allow the near-endemic population to remain stable, leading to the bird's Critically Endangered status.
It is intended to attempt to eradicate the mice by poison-bait drop in 2020 (click here). If successful, the Tristan Albatross will at last have a chance of a "normal" breeding season, with an expected 70-75% breeding success. Here's hoping!
The Gough Island Restoration Programme is run by the RSPB in partnership with the Tristan da Cunha Government, BirdLife South Africa, the South African Department of Environmental Affairs and Island Conservation.
Information from Michelle Risi Jones, the Gough Island Restoration Programme and an RSPB blog.
John Cooper, ACAP Information Officer, 09 October 2018