Eighty years ago on 22 September 1938, late in the afternoon, Lance Richdale watched the first Northern Royal Albatross Diomedea sanfordi chick fledge from New Zealand's Taiaroa Head. Since that beginning in 1938 the colony had produced 500 chicks by 2007.
The Royal Albatross Centre paid tribute to Lance Richdale by hosting a talk by Neville Peat, author of Richdale's bibliography, on the anniversary date last weekend. Richdale in 1938 camped for extended periods beside the solitary egg and then the chick, which he nicknamed 'Sprog', observing and protecting it until it fledged. Without his dedicated efforts it is doubtful there would now be a royal albatross colony on the mainland of New Zealand's South Island.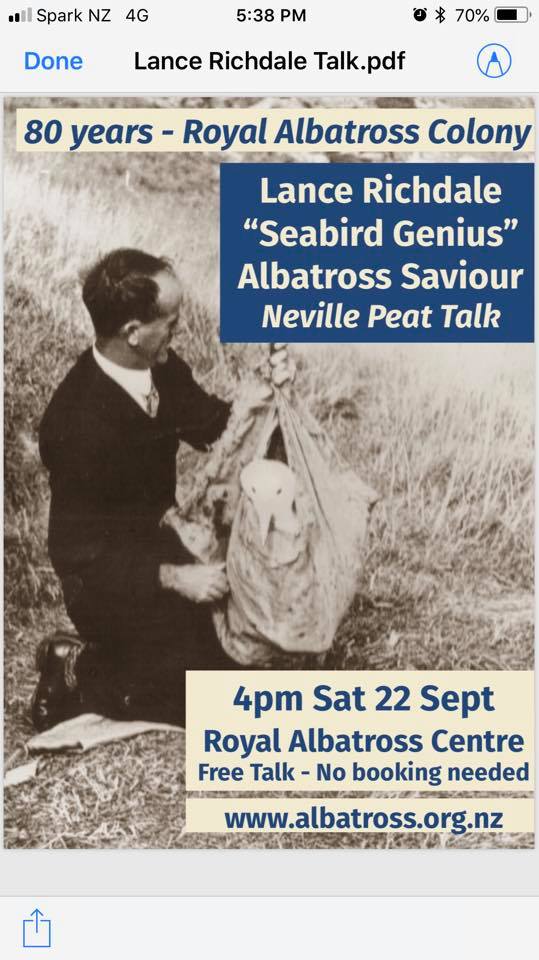 View the 59-minute video of Neville Peat's lecture "Lance Richdale "Seabird Genius" Albatross Saviour".
Listen to a radio interview with Otago Peninsula Trust marketing manager, Sophie Barker on the 80-year anniversary here.
Last week bells rang in nearby Dunedin to celebrate the first Northern Royal Albatross returning for the 2018/19 breeding season as the last two (named Biggles and Rocky) of the 2017/18 cohort of 13 chicks prepare to fledge for this biennially-breeding species (click here). Keep up to date on the albatrosses' comings and goings at Taiaroa Head on the Royal Albatross Centre Facebook page.
The Northern Royal Albatross or Toroa, endemic to New Zealand, has a national conservation status of Naturally Uncommon and a global status of Endangered.
With thanks to the Royal Albatross Centre.
Reference:
Peat, Neville 2011. Seabird Genius. The story of L.E. Richdale, the Royal Albatross, and the Yellow-eyed Penguin. Dunedin: Otago University Press. 288 pp. Paperback. ISBN 978 1 877578 11 3. NZD 45.00. Read ACAP's review here.
John Cooper, ACAP Information Officer, 25 September 2018
PORTFOLIO: First successful breeding attempt, Taiaroa Head, 1938; photographs by Lance Richdale from the Royal Albatross Centre