Lights have gone on once more this month for American football (gridiron) on Friday nights on the Hawaiian island of Kauai, marking the season's first games within the globally Endangered Newell's Shearwater Puffinus newelli fledging season. However, games throughout October and November will be held on Saturday afternoons instead to avoid fledglings being attracted to and downed by ballpark flood lights.
A fledgling Newell's Shearwater, photograph by Eric Vanderwerf
"Saturday [15 September] marked the beginning of that fledgling season [ends 15 December] , when seabird chicks that have been raised in burrows all around Kauai start making their way toward the ocean, and historically stadium lights have been an obstacle in their paths. The birds usually use the moon as a guiding light on their journey, but they can fixate on things like stadium lights and circle them until they fall to the ground.
For the past seven years, night football has been a thing of the past, but that changed after the county spent millions retrofitting ballpark lights in county parks. It was one of the things done to comply with a 2010 Justice Department plea agreement in which the county and Kauai Island Utility Cooperative admitted to violating the Migratory Bird Treaty Act.
In addition to things like retrofitted park lighting, officials used knowledge of breeding cycle timing and the moon phase to decide which night football games could be played without causing harm to the endangered seabirds. … night games on the last three weekends of September were considered low risk. Night games in October and November were considered high risk."
An estimated 75% of breeding Newell's Shearwaters, a species endemc to the Hawaiian Islands, breeds on Kauai. Between 1999 and2001 it is estimated there has been a 60% decrease in the Kauai popularion.
Save our Shearwaters, a programme funded by the KIUC and based out of the Kauai Humane Society, has been rehabilitating and releasing downed seabird fledglings on the island since its creation in 1979. Every year, seabirds downed by lights are collected in the breeding season by residents and visitors and dropped off at 11 aid stations around Kauai.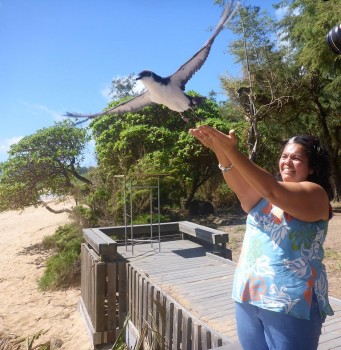 A rehabilitated Newell's Shearwater gets released
John Cooper, ACAP Information Officer, 27 September 2018