BirdLife International's Albatross Task Force (ATF) has released its latest annual progress report- covering highlights of the ATF's activities in Argentina, Brazil, Chile, Namibia and South Africa, covering the period April 2017 to March 2018.
A summary circulated by the ATF follows:
"Last year culminated in all of our teams getting together for a workshop in Mar del Plata, Argentina, to share expertise in how to ensure the bycatch regulations we've fought so hard for actually work to save vulnerable seabirds. Argentina was the perfect location for these discussions, as in May, regulations requiring trawlers to use bird-scaring lines there came into force. The team have spent the past year working with industry to prepare them for these new rules by supplying bird-scaring lines to over half the fleet, and are now closely watching to see how effective the measures will be in reducing bycatch. In the coming year, we hope to demonstrate that similar regulations in Namibia have resulted in a major reduction since they came into force in 2015.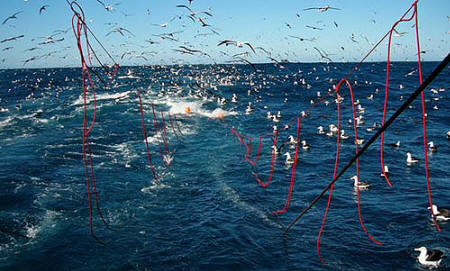 Twin bird-scaring lines keep Black-browed Albatrosses away from the warp cables behind a South African demersal hake trawler, photograph by Barry Watkins
In Chile, our new "seabird-safe" purse-seine nets - which can reduce seabird bycatch by 98% - were nominated for the Latin American Green Awards 2018, and our collaborative work with this fleet has resulted in excellent relations with national artisanal fishers' confederation. The Brazilian team have worked closely with the authorities to ensure that seabird bycatch issues are well understood and that regulations are enforced in ports. In South Africa, our longest-standing ATF team, the demersal trawl fleet has maintained its clean slate of no birds caught – and the team stepped up engagement with two longline fleets to look at specially adapted bird-scaring lines for smaller vessels.
These achievements have been made possible due to the collaborative efforts between our in country partners, the RSPB and BirdLife International – as well as funding from the RSPB membership, external donors and generous individual donations. We are extremely thankful for the continued support we receive from you, without which we wouldn't be able to keep up the fight to save the albatross."
Click here to read more and to access the ATF annual review.
Additionally, Projeto Albatroz, a NGO that represents the Albatross Task Force in Brazil, has released its own annual report, written in Portuguese and entitled Amar o Mar for the period July 2017 to July 2018. The document covers activities by the NGO in the fields of research, public policies, environmental education and communication. Access it here.
With thanks to Nina da Rocha, Albatross Task Force Project Officer
John Cooper, ACAP Information Officer, 24 September 2018