Kauai Endangered Seabird Recovery Project (KESRP) teams were flown by Airborne Aviation helicopter into the mountains of the Hawaiian island of Kauai on two separate days earlier this month to collect globally Endangered Newell's Shearwater Puffinus newelli chicks from their burrows. Seventeen birds were moved from the Upper Limahuli Preserve and Hono O Nā Pali Natural Area Reserve to the Nihoku Ecosystem Restoration Project's predator-proof site near the island's coastline within the Kīlauea Point National Wildlife Refuge. A further two chicks were transferred from within the refuge itself to the fenced site. The 19 chicks, currently weighing between 400 - 500 g, are now being fed by hand on "a delicious slurry of squid, fish, oil, pedialyte and vitamins" prepared daily by the environmental NGO Pacific Rim Conservation until they fledge from their custom-designed artificial burrows. Watch short videos of the operation here and here.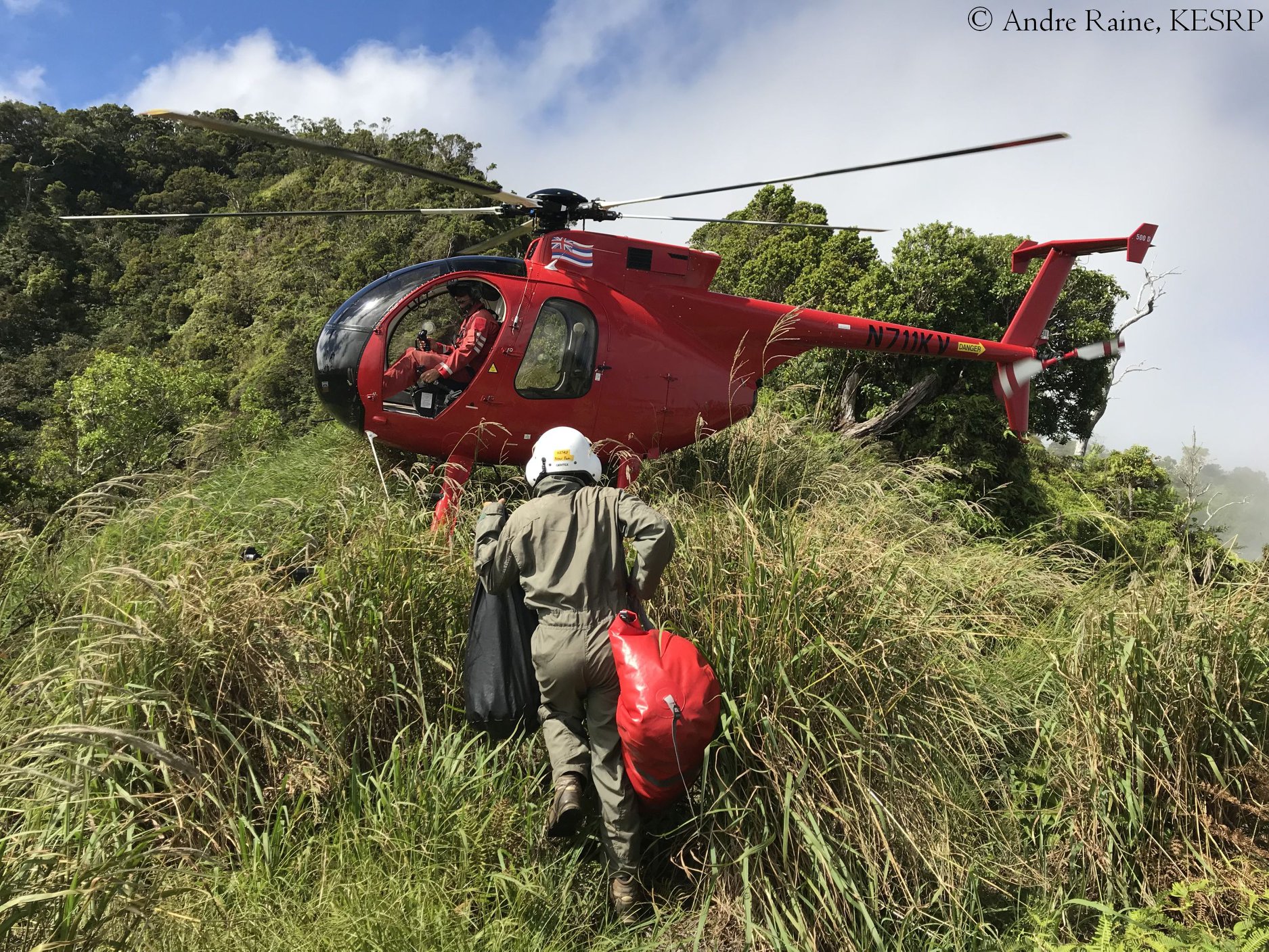 Collection of Newell's Shearwater chicks was facilitated by use of a helicopter, photographs by André Raine
The previous season's translocation efforts with Newell's Shearwaters, the second for the species, hand-reared 18 translocated chicks at the Nihoku translocation site; in the first year in 2016 eight chicks were translocated in what is planned to be a five-year project.
"Newell's shearwaters are likely to start returning to breeding colonies at 2 or 3 years of age, according to KESRP, but likely do not breed until they're 5 or 6."
Read more here.
The translocation project (which includes globally Vulnerable Hawaiian Petrels Pterodroma sandwichensis) is a multi-partner project with the Kauai Endangered Seabird Recovery Project, Pacific Rim Conservation, U.S. Fish and Wildlife Service, American Bird Conservancy, National Fish and Wildlife Foundation, Hawaii Department of Land and Natural Resources, Pacific Studies Co-operative Unit and the National Tropical Botanical Garden.
With thanks to André Raine.
John Cooper, ACAP Information Officer, 20 September 2018, updated with corrections on 01 October 2018