It has been six months since New Zealand's sub-Antarctic Antipodes Island was officially announced as being free of introduced House Mice Mus musculus following an eradication campaign and two seasons later follow-up monitoring by the Million Dollar Mouse team, removing a threat to the island's biota, including to it seven ACAP-listed albatross and petrel species.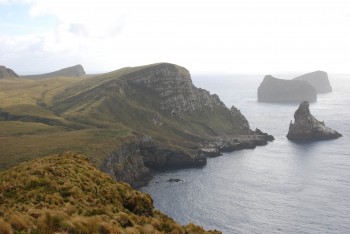 Antipodes Island: now mouse free, photograph by Erica Sommer
"In the winter of 2016, a 13-strong eradication team arrived on the main Antipodes Island. They used helicopters to spread cereal bait containing the rodent toxin brodifacoum from specialised under-slung bait-spreading buckets. They covered the island in two separate applications. In February 2018, two mice breeding seasons after the program was delivered, a monitoring team arrived to determine the project's outcome. They deployed 200 inked tracking tunnels and searched the island for three weeks with two rodent detection dogs from the Conservation Dogs Programme supported by Kiwibank and the Auckland City Council. No mice were detected, confirming the Million Dollar Mouse campaign successfully eradicated mice from Antipodes Island in the New Zealand Subantarctic."
You can now watch a 20-minute video describing the successful eradication.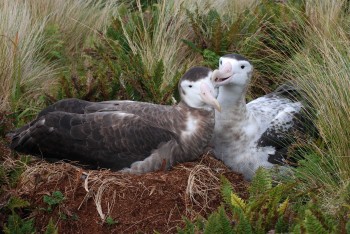 An Antipodean Albatross pair: no longer at risk to mice on Antipodes Island, photograph by Erica Sommer
Read more about the Antipodes' eradication effort here.
The conservation focus has now shifted to the next goal: achieving a completely mammal pest-free New Zealand sub-Antarctic with the Maukahuka – pest-free Auckland Island project that aims to free the island of its alien pigs, feral cats and mice. Read about progress with eradication plans at Auckland Island here.
John Cooper, ACAP Information Officer, 13 September 2018