The 46th Annual Meeting of the Pacific Seabird Group will be held on the Hawaiian island of Kauai at the Aqua Kaua'i Beach Resort from 28 February to 3 March next year with the theme "Seabirds in a Changing Pacific – Ensuring a Future, Fighting the Plastic". Registration and abstract submissions are now open (click here). Other important dates can be found on the meeting's website.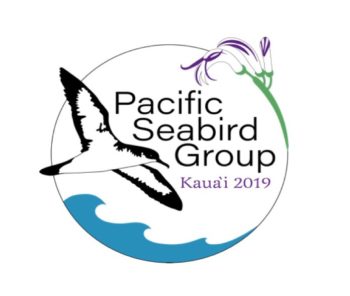 Three plenary speakers and titles of their addresses have been announced:
Tony Gaston: Some Important and Unresolved Problems in Seabird Science
Helen James: Museum Specimens of Seabirds as Ecological Archives
Mark Rauzon: The Pacific Project - Secret Monitoring of Seabirds and Biowarfare Testing
Visit the conference website for more information.
Kauai supports populations of ACAP-listed and globally Near Threatened Laysan Albatrosses Phoebastria immutabilis, such as at the Kilauea Point National Wildlife Refuge, with breeding underway at the time of the annual meeting. The meeting's website lists excursions including "... a unique opportunity to fly to the seabird Islet of Lehua, normally off-limits, and see [the] site of an ambitious rat eradication project, as well as breeding seabirds" and "... a pelagic trip on a small boat, in the hope of spotting migrants and vagrants at sea".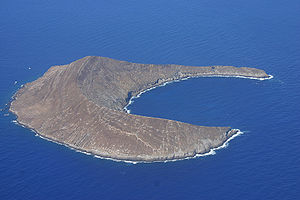 Lehua Islet from the air
"Field trip option #5 - You will be taken by helicopter along the coast of Kauai and across the water to Lehua Islet. A rat eradication project is currently taking place on Lehua, which is already benefiting local populations of many seabird species that breed there. While some species are out at sea in late February, both Black-footed Albatross and Laysan Albatross are breeding at this time of year, and Black Noddies and [Brown and Red-footed] Boobies will also be present. Lehua is truly beautiful and is off-limits to the general public - you will not regret signing up for this special trip. With thanks to [the] State of Hawai'i Division of Forestry and Wildlife."
John Cooper, ACAP Information Officer, 17 September 2018