The United Kingdom's Royal Society for the Protection of Birds (RSPB) is seeking an Operational Manager experienced in the management of pest eradication and/or control projects, ideally involving aerial baiting, to oversee a House Mouse eradication attempt on Gough Island in the South Atlantic during the austral winter of 2020.
"Gough Island, part of the UK Overseas Territory of Tristan da Cunha, is [part of] a World Heritage Site, and one of the most important seabird islands in the world, with 22 breeding seabird species. The major threat to its biodiversity is the presence of introduced house mice that are preying on the chicks and eggs of endangered species including the Critically Endangered Tristan albatross and Gough bunting. All of Gough's seabirds, and especially those breeding in the winter, are vulnerable to mouse predation, and low breeding success means that most breeding seabird populations are declining, which has a negative impact on the site's importance and value."
The closing date for applications is 05 October 2018 with interviews scheduled for 17 October 2018. Read more about the 30-month contract position and how to apply here.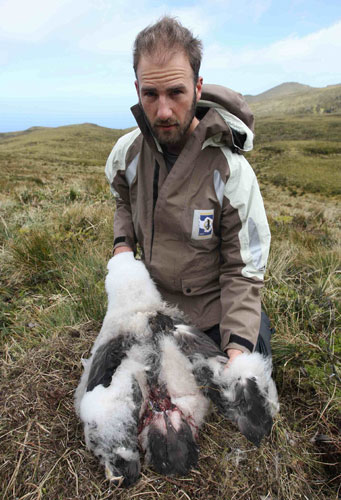 Rob Ronconi restrains a Tristan Albatross chick attacked by mice on Gough Island, it died from its wounds the next day; photo by Peter Ryan
The Gough Island Restoration Programme is being carried out by the RSPB in partnership with Tristan da Cunha, BirdLife South Africa and the South African Department of Environmental Affairs. Read more here.
Read more items in ACAP Latest News on Gough's mice here.
With thanks to Clare Stringer.
John Cooper, ACAP Information Officer, 10 September 2018