The Mouse Free Marion restoration project of BirdLife South Africa aims to raise 30 million South African Rands to help the South African Department of Environmental Affairs eradicate introduced House Mice Mus musculus from sub-Antarctic Marion Island in the southern Indian Ocean in the next few years – currently set for winter 2020. The mice have taken to attacking and killing seabird chicks at Marion Island, notably of several ACAP-listed species, such as the globally Endangered Grey-Headed Albatross Thalassarche chrysostoma (click here).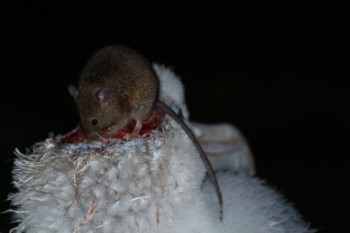 A House Mouse feeds on the bared skull of a Wandering Albatross chick at Marion Island, photograph by Stefan Schoombie
Donors can sponsor a hectare of Marion Island for R1000 - or US$90 - through the project's website. This amount is roughly what it will cost to purchase the toxic bait required to eradicate mice from one hectare of the island. The website has a built-in secure payment system, with options for credit card or EFT payments within South Africa. Sponsors can receive a Section 18A tax certificate for their donation. BirdLife South Africa is also able to process payments from the United States and Canada and to provide tax certificates for these countries.
All sponsors' names are being listed on the website and a map of the island will be updated to reflect the total number of hectares sponsored. So far, 174 hectares (0.57%) have been sponsored by 67 individuals, from one to 35 ha a person. Each sponsor will be e-mailed a certificate with the GPS coordinates of his or her hectare.
The website is also an information portal for Marion Island and the importance of the restoration project. To keep donors updated on the progress of the campaign, video interviews with key partners and individuals are being uploaded as the project grows, including one by ACAP's honorary Information Officer. A section containing Frequently Asked Questions informs visitors to the site about the island and the eradication project.
All funds received through the website will be used for the Marion Island Restoration Project, except for a 2% administration fee.
For more information about the restoration project contact This email address is being protected from spambots. You need JavaScript enabled to view it. of BirdLife South Africa.
Read more here.
John Cooper, ACAP Information Officer, 22 August 2018