Oikonos Ecosystem Knowledge is seeking an individual who will play a leadership role in designing (2018) and constructing (2019) a 900-m cattle- and rabbit-proof fence to protect a globally Vulnerable Pink-footed Shearwater Ardenna creatopus colony on Robinson Crusoe Island, Chile.
The fence project will be a significant contribution to wildlife conservation because it must overcome challenges shared by many remote locations that include (1) no car or helicopter access (only by foot or donkey), (2) no on-site water source, (3) no electricity, (4) severe seasonal weather conditions (routinely exposed to hurricane force winds), and (5) affordability.
Requirements include:
• Demonstrated experience managing cattle- and rabbit-proof fence projects in remote areas.
• Knowledge of wildlife conservation and threats from introduced species.
• Ability to research and connect with world-wide experts on exclusion fences.
• Good communication skills working in a virtual community via email and Skype.
• Team-management skills, including the ability to motivate, lead, set objectives and manage performance of people with variable experience.
• Experience overseeing the quality of vendors and subcontractors.
• Fluency in English and Spanish, both written and verbal, is preferred.
• Professional communications with partners, government, and residents.
Oikonos Ecosystem Knowledge is a non-profit organization in the U.S. and Chile with the mission to study and protect imperilled ecosystems by engaging diverse communities in innovative scientific and artistic collaborations. The non-profit organization was established in 2001 and has led over 100 collaborative projects throughout the Pacific with expertise in community-based conservation, habitat restoration, ecosystem research, conservation tool development, and education.
Applicants or contractors should contact This email address is being protected from spambots. You need JavaScript enabled to view it., Chile Program Manager.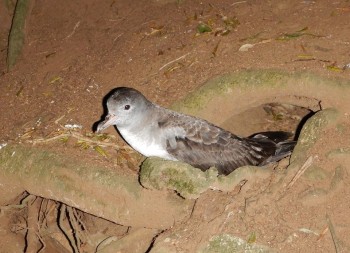 Pink-footed Shearwater, photograph by Jonathan Felis
Read more details here.
John Cooper, ACAP Information Officer, 03 August 2018