Pacific Rim Conservation (PRC), a conservation NGO based in Hawaii, is looking for up to three non-paid and self-supported interns to participate in its Seabird Restoration Program. The project is based at the James Campbell National Wildlife Refuge on the island of Oahu and involves social attraction and translocation of Laysan Phoebastria immutabilis and Black-footed P. nigripes Albatrosses (both Near Threatened), Bonin Petrels Pterodroma hypoleuca (Least Concern) and Near Threatened Tristram's Storm Petrels Hydrobates tristrami in order to establish new colonies considered safe from predicted sea level rise.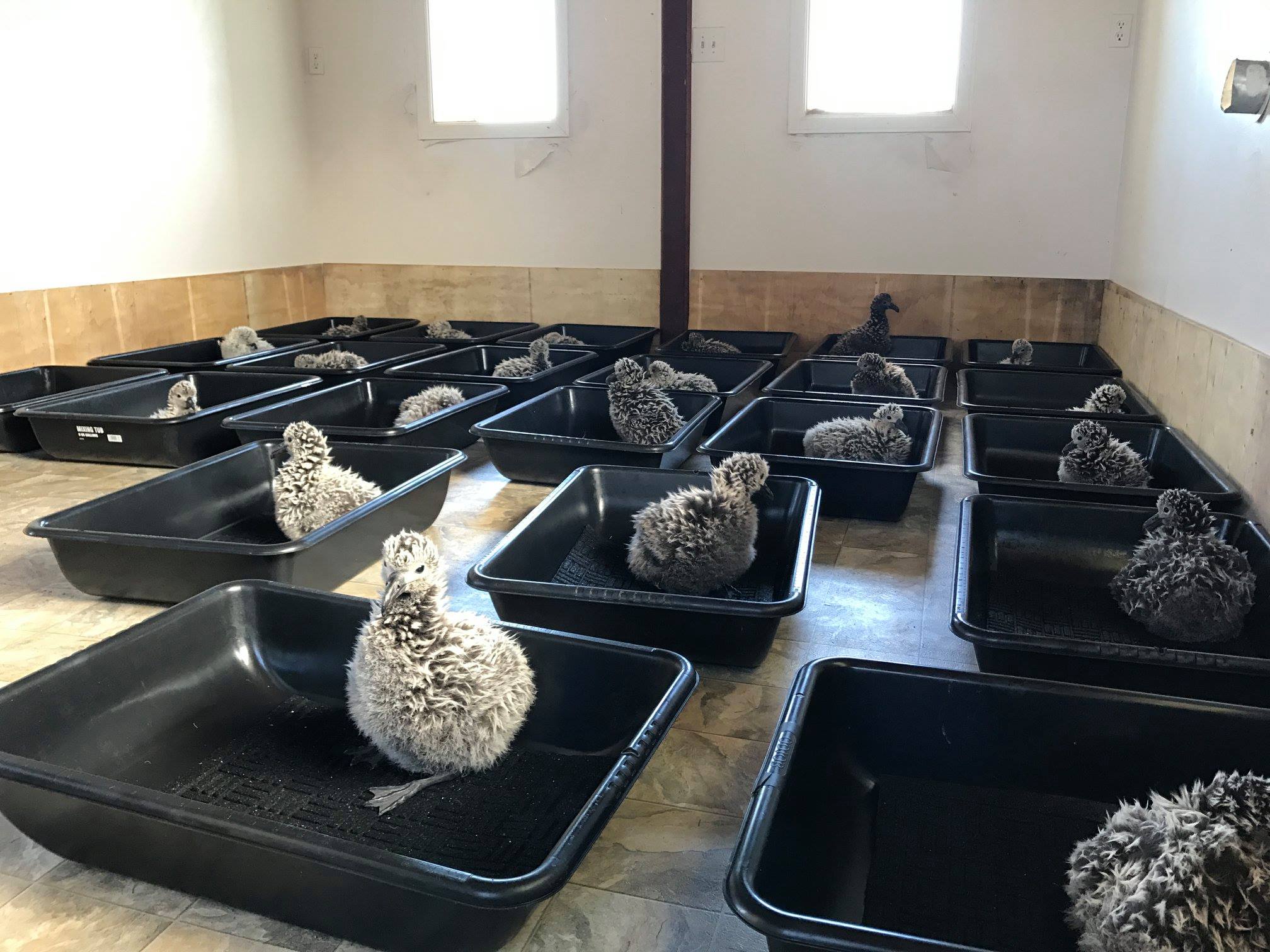 The 2018 cohort of translocated Black-footed Albatross chicks soon after collection, photograph courtesy of Pacific Rim Conservation
"We are in search of passionate individuals interested in gaining experience in the avian care and seabird conservation field. Interns will be exposed to all aspects of the daily care of the translocated chicks with an emphasis on daily cleaning and food preparation. Interns will also gain training on seabird social attraction techniques and aspects of habitat restoration, including out-planting and predator control. Interns will go through [an] initial orientation to gain a basic understanding of avian husbandry in the conservation field and continue to refine these skills throughout the internship. Interns will also shadow a member of the PRC Animal Care team throughout the duration of the internship to learn through observation about avian care, feeding and holding techniques. Please keep in mind, due to the nature of this project and permitting restrictions, handling of the chicks is limited. However, as interns gain experience, they may have the opportunity to assist in feeding and handling of the translocated chicks."
Responsibilities will include diet preparation, daily and weekly cleaning tasks, field maintenance, animal observations and data collection over the period 4 February – 28 June 2019. For more details and how to apply – by 16 August - click here.
More information on Pacific Rim Conservation's Seabird Restoration Program can be found on PRC's "No Net Loss" website.
The most recent (the second) translocation of Black-footed Albatrosses by PRC has been a successful one with 22 of 25 hand-reared chicks fledging from the James Campbell National Wildlife Refuge, the last on 23 June. Thirteen chicks fledged in the first year. This year all 53 translocated Bonin's Petrels fledged, the first year with this species. Fledging from the first 25-strong Tristram's Storm Petrel cohort was also a 100% success (click here).
John Cooper, ACAP Information Officer, 10 July 2018