World Oceans Day today has the theme "preventing plastic pollution and encouraging solutions for a healthy ocean".
Plastic pollution affects many of the 31 ACAP-listed albatrosses, petrels and shearwaters, primarily by both ingestion, but also by entanglement.
Some species, notably the Black-footed Phoebastria nigripes and Laysan P. immutabilis Albatrosses of the North Pacific, ingest many plastic objects found floating at sea and feed them to their chicks. Southern Hemisphere albatrosses and petrels are not spared from this. For example, ACAP Latest News has reported on plastic and other foreign objects (such as fragments of latex balloons) swallowed by a Light-mantled Albatross Phoebetria palpebrata and by Southern Macronectes giganteus and Northern M. halli Giant Petrels (see links below), and even on a toothbrush found among breeding Wandering Albatrosses Diomedea exulans.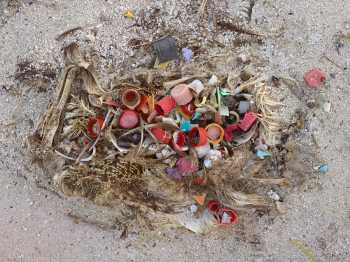 Remains of an albatross corpse on Midway Atoll with a large number of ingested plastic bottle caps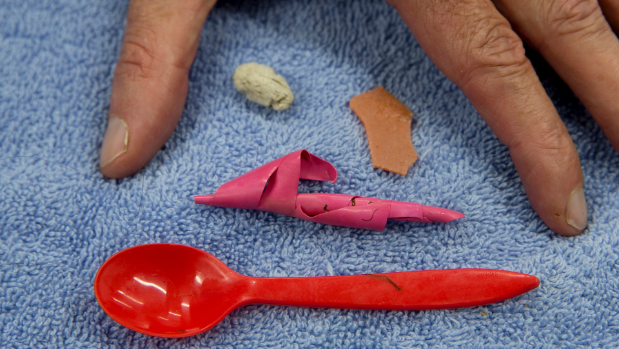 Plastic spoon and a latex balloon fragment removed from a Southern Giant Petrel (click here)
Non ACAP-listed procellariform seabirds that regularly ingest plastic items include many of the shearwater genera, notably the Near Threatened Flesh-footed Shearwater Ardenna carnepeis.
For its part, the Secretariat is looking into ways of adopting a more-environmentally friendly policy for ACAP, starting with avoiding the presence of single-use plastic bottles and straws at its meetings. ACAP has already moved to holding largely paperless meetings, collecting and reusing delegates' plastic name tag holders and at its most recent meeting, in South Africa last month, it donated a printer and cartridges to a local school rather than taking them back to the Secretariat office in Australia. In the Secretariat recycled paper is used for printing.
"On World Oceans Day, people around our blue planet celebrate and honour the ocean, which connects us all. Get together with your family, friends, community, and the planet to start creating a better future. Working together, we can and will protect our shared ocean. Join this growing global celebration on 8 June."
World Oceans Day, first proposed in 1998, has been recognized by the United Nations since 2008.
Previous postings on ingested balloons:
https://www.acap.aq/news/latest-news/2158-balloon-pollution-a-conservation-issue-for-albatrosses-and-petrels-2?lang=en
https://www.acap.aq/en/news/latest-news/2824-surgery-removes-plastic-and-a-balloon-from-a-translocated-laysan-albatross-chick
https://www.acap.aq/news/latest-news/2791-a-plastic-spoon-and-a-balloon-are-successfully-removed-from-a-southern-giant-petrel?lang=en
John Cooper, ACAP Information Officer, 08 June 2018